'Pokémon Go' Stadium Event: Pikachu Outbreak will be streamed on Aug. 14 and fans are freaking out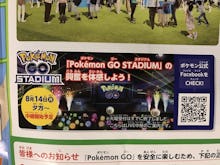 The Yokohama Pikachu Outbreak is underway in Pokémon Go. Currently, players visiting and living in Japan have the opportunity to catch a shiny Pikachu and participate in special raids. However something else has the greater Pokémon Go community buzzing about the event: the promise of a livestreamed "Pokémon Go Stadium" event happening on Aug. 14.
If you're looking for more info, or a reason to be freaking out yourself, we've got you covered. Here's everything you need to know about the Pokémon Go Stadium event.
Pokémon Go Pikachu Outbreak: Mysterious announcement gets players excited for a Pokémon Go stadium event
A Japanese Pokémon Go player posted an image to the Silph Road subreddit revealing that Niantic will stream a special event live on the game's official Japanese Facebook page on Aug. 14. Naturally, this got fans more than a little excited about what could be coming.
"So you're telling me on the last day of Zapdos they're going to have a big, livestreamed stadium event?" wrote PsYcHoSeAn. "Doesn't smell like coincidence..."
A user named TheLastStopByMe also did a quick google translation of the news for the non-Japanese speakers in the thread:
"On Facebook, you've got a lot of fun!"
The best way to get the event in the facebook camera effect! Anyone can be a pikachu with a face mask, and the nodded and pikachu mass on the screen. Start Your Facebook app now!
In addition, August 9 (Wed) and 14th (the moon) will live in the pokemon official Facebook page! On August 14th, the broadcast of the " Pikachu Carnival Parade!! The people who can't come to the venue," have a great time!
Detailed live broadcast is coming up!
Other players were just excited for the opportunity to see some digital schadenfreude.
"I honestly can't wait for this," wrote user StoicThePariah. "I didn't get to see the livestream of the Go Fest event because I played nonstop that weekend, but unless they have another global event for this, I'm going to chill and watch all the errors and problems on the livestream and laugh."
Pokémon Go Pikachu Outbreak: Fans think we might see the debut of the second Johto legendary or some form of PvP during the livestream
So what do fans think they're going to see during this livestream? There are two camps. Given the recent push on legendary raids, some fans think that we might be seeing Ho-oh, the other Gen 2 legendary bird who has yet to appear. Given Niantic's reliance on special Pikachus, some fans were less than certain they'd actually reveal Ho-oh at the event.
"Big screen displays Ho-oh, then zooms out to reveal it is just a hat on Pikachu," wrote duel_wielding_rouge. "Suddenly, NETWORK ERROR," added AlphaNathan.
Some players weren't even interested in a legitimate Ho-oh reveal, however.
"Please no," wrote user Tesla__Coil. "I need a break. Timed legendaries are too frustrating to do six weeks in a row."
So if it's not a new legendary, what could it be?
"Has anyone thought about PvP being what's released, not a new legendary like Ho-Oh or Mewtwo?" wrote Darth_Massey. "I mean, it's called 'STADIUM'. I'm super excited for the idea of being able to crush people one on one."
"I hope so, it's the only thing to keep this game going," wrote pikachus_ghost_uncle. This would make sense since the title, "Pokémon Go Stadium," just adds a word to what's ostensibly the best known Pokémon player-vs.-player game in existence.
It's all still speculation, though. So if you want to see what this mysterious event holds, clear your calendar for Aug. 14 from 6 p.m. to 9 p.m. local time — that's Aug. 14 from 5 a.m. to 8 a.m. Eastern time.
More Pokémon Go news, updates, tips and tricks
Raids are here — and not just for ordinary Pokémon. Check out our coverage of the legendaries now in-game, Lugia and Articuno. Find out what went wrong at the Pokémon Go Fest in Chicago while you wait for the debut of the European Safari Zones in August and September. Finally, check out some reporting on the issues plaguing rural players a year after launch, how the game created a space for black female gamers and how Pokémon Go can continue to build its community.