Solange proves once again she's a self-love warrior with her latest, "most true to myself" selfie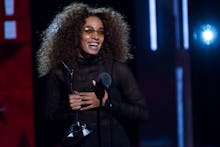 Solange Knowles, despite being utterly otherworldly, a musical genius and blessed with Tina Knowles' genes, would like you to know that she does not always look glowing and perfect. No, she too is a human being who breaks out in unflattering, rather mortifying hives — and she's pretty chill about it.
We learned that on Thursday, when Solange posted what she called, "My favorite (and most true to myself) selfie."
It's not one of those poreless or effortlessly cool selfies so often spotted on her Instagram. It's actually a picture taken on her wedding day... when she broke out in hives.
Yes, that's a real thing that happened to precious Solange.
"The seafood — she had a reaction to it. So her face broke out in welts," Tina Knowles told Entertainment Tonight back in 2014. "[Beyoncé] took her back to the hotel and gave her Benadryl and in two hours she showed up at the reception and did the dance with her son and just had a ball."
When Solange posted the pic on Thursday, her fans quickly related. "I know this struggle, contact hives and allergies," one wrote, while another chimed in, "I feel your pain boo."
Over on Twitter, people were very here for it too.
We guess even stars related to Beyoncé by blood can be like us.
Upon further investigation, breaking out in hives is kinda like a hobby for Solange. In an interview with her sister for Interview magazine, Solange recalled breaking out in hives on two occasions: In the lead-up to the release of her album A Seat at the Table and upon meeting Diana Ross.
"I broke out in some hives when I went to her concert," Solange said. "Alan [Solange's husband] was like, 'Uh, you're breaking out into hives. Calm down.'"
When you think about it, it's a pretty understandable reaction.