A quarter of Americans believe Trump acted illegally with Russia, poll shows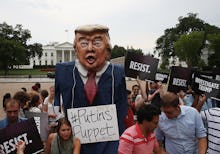 A new Gallup poll released on Wednesday shows that one in four Americans believe that President Donald Trump acted illegally in connection to the allegations that his campaign communicated with Russian officials in order to influence the 2016 election.
A larger group, 37%, said that they believe he acted "unethically but not illegally," — but a similar number, 35%, said they believed Trump did nothing wrong.
Despite Trump's assertions that "the Russia story is a total fabrication" and that the investigation into his campaign's actions is nothing but a politically motivated "witch hunt," the investigation into the Trump campaign's connection to Russian officials continues.
Earlier in August, news broke that special counsel Robert Mueller had convened a federal grand jury as part of the investigation into the Trump campaign's relationship with Russia — and Reuters reported in August that grand jury subpoenas had been issued in connection with a June 2016 meeting between Donald Trump Jr. and a Kremlin-connected Russian attorney.
The White House has claimed that the president had no knowledge of his son's meeting at the time.
In February, former national security adviser Mike Flynn resigned after it became clear that he had misled officials about his communications with Russian Ambassador to the U.S. Sergey Kislyak.
Perhaps unsurprisingly, the new Gallup poll found that opinions on Trump's actions in relation to Russia were starkly divided along party lines, with 69% of Republicans and Republican-leaning independents saying they believed Trump had done nothing wrong, while 43% of Democrats and Democratic-leaning independents said they thought he had acted illegally.