Alabama AG wants minors who can't get parental consent for abortion to face a prosecutor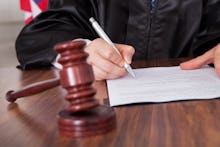 Alabama Attorney General Steve Marshall would like to put abortion-seeking women under the age of 18 through proceedings that very closely resemble a trial, if those women can't get their parents to sign off.
On Tuesday, Marshall filed paperwork to appeal a July decision by U.S. Magistrate Judge Susan Russ Walker that blocked aspects of a state law requiring minors to procure written permission from a parent or guardian before they could legally terminate a pregnancy, according to AL.com.
Until 2014, minors also had the option of securing a waiver from a judge, but then the legislature amended the law to provide for the presence of a district attorney and — if they got wind of the proceedings — the minor's parents or guardians. The fetus could also be appointed an attorney of its own.
In effect, the amendment Marshall is pushing would turn a hearing that already implicates the girl, her attorney and the judge into a procedure that involves not only a district attorney, but also a non-sentient plaintiff along with other outside parties.
In her ruling, Walker said that the amendment "violates a minor's constitutional right to an anonymous and confidential judicial bypass to Alabama's parental consent law," according to AL.com. In his appeal, Marshall countered that "in fact, changes made to Alabama's parental consent law serve to strengthen the ability of bypass courts to obtain sufficient evidence in rendering a decision when a pregnant minor seeks an abortion without the consent of a parent."
Which is to say, the amendments expand the court's ability to probe into a teen's private life.
"We're disappointed that the state of Alabama has chosen to continue defending this reprehensible law," Andrew Beck, senior staff attorney with the American Civil Liberties Union's Reproductive Freedom Project, said in a statement. The ACLU brought the original lawsuit against the Alabama law, resulting in Walker's ruling.
"While many teens turn to their parents when faced with an unintended pregnancy, others — particularly those with abusive parents — just can't," Beck continued. "Forcing a teenager to go on trial to get an abortion does nothing to promote her health or safety — if anything, it just exposes her to further harm."
Both the appeal and the ruling that inspired it are timely in light of an Alabama judge's recent decision to allow a 12-year-old girl, a victim of both rape and incest, to get an abortion without parental consent. Alabama limits the legal abortion window to 20 weeks post-fertilization; at the time of her hearing, the girl was 13 weeks pregnant and recently removed from her mother's home — which she had occupied along with four siblings, her step-father and an uncle — on allegations that her mother physically abused and neglected her, according to AL.com.
While the girl's relationship to the relative who raped her was not spelled out in court, her case does highlight a few circumstances under which a minor might not want their family involved in terminating a pregnancy. Still, abortion opponents decried the judge's decision. Win Johnson, the executive director of COPE crisis pregnancy center in Montgomery, Alabama, angrily questioned whether or not a 12-year-old "was mature enough ... to decide to murder her own child in her womb."
In considering parental consent laws, maturity is an interesting question. In Alabama, a teen is legally able to consent to and have sex at age 16 but can't legally procure an abortion until age 18. The implication that 16-year-olds and 17-year-olds are mature enough to have sex but not mature enough to deal with the potential repercussions is somewhat baffling, unless one considers the state of Alabama's sex education curriculum.
The state pushes an abstinence-only-outside-of-marriage agenda, casts same-sex intercourse as criminal and avoids discussion of how to use contraception. If not necessarily immature, Alabaman teens may well be unprepared for the realities of sex — and, it stands to reason, parenthood.