Tips that pay off: Opportunities that seem too good to be true — but aren't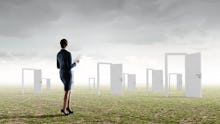 Growing up, our parents and teachers instilled in us the unofficial rule that if something is too good to be true, chances are, it is — and therefore, we should avoid it at all costs. A majority of the time, that rule holds true and saves us from the endless scams and rip-offs life throws our way.
There are, however, exceptions to this rule: opportunities that sound so good, we convince ourselves there's no way they could be real — but contrary to popular belief, they are. And if you grab them while they're hot, they could ignite a flame of fortune.
We cut through the scams and sought out several surreal opportunities you should take advantage of now. From part-time work with benefits to getting rich by playing games, these are the exceptions to the rule you've blindly followed since you were young.
Tip No. 1: Find you a company that does both: part-time and health insurance
What would you say if an employer would let you work part-time, and also offered health insurance? What if they would pay you a decent wage and provided coverage to your domestic partner, too?
In a world where side hustles and part-time gigs are becoming the norm, finding an employer who not only pays you fairly but also offers health care can be a necessity to making ends meet. And working for someone who also recognizes your domestic partnership with health care coverage: Well, that's just gold.
To give you a few options, Mic found nine companies that offer health insurance to part-time workers.
Tip No. 2: Get a paycheck and a new degree
Want to go back to grad school but can't afford it? There are a bunch of companies out there that will not only pay for your tuition, but also have happy workers.
To find out which do both, Mic screened the seventh annual CareerBliss 50 Happiest Companies in America survey for seven firmsthat do just that.
Tip No. 3: Play video games, get rich
We know, it sounds ridiculous. But you could actually collect thousands of dollars worth of real coins playing video games — not just the virtual ones in Super Mario Run.
If your gaming addiction is really more of a passion than a pastime, it might be time for you to try to profit from your talents: You can get paid thousands of dollars a month and maybe more.
That would certainly silence the haters. Want to learn how? Here are four of the best ways to make bank from gaming.
Tip No. 4: Use Twitter, get rich
Again, not at all kidding. Instead of trolling on Twitter, try following experts who tweet out free advice every day that will help you grow wealthier over time.
To help you choose the best minds to follow, the Payoff handpicked 21 of our favorite Twitter accounts for financial advice, wisdom about business and more.
You might recognize a few well-known investors and entrepreneurs like Mark Cuban, while others are more under-the-radar bloggers with relatively modest followings, but sage advice.
Tip No. 5: Avoid bright light, save money
This one sounds a bit abstract, but there are weird psychological tricks that research shows can actually help you save money — and that includes avoiding bright light while making financial decisions, among other things.
While we wouldn't go so far as to suggest a darker room is a silver bullet for solving your financial problems, the amount of light we're exposed to is one of many surprising factors that could influence our financial decision-making.
As strange as it all sounds, this and other research has found surprising factors that can change people's spending habits. Here are three insights from studies that, though perhaps silly on the surface, show how our relationship with money can be affected by unconscious tendencies.
STAY UPDATED
Sign up for the Payoff— your weekly crash course on how to live your best financial life. Additionally, for all your burning money questions, check out Mic's credit, savings, career, investing and health care hubs for more information — that pays off.