Hot Water Challenge: Kids are burning each other with boiling water in a deadly YouTube trend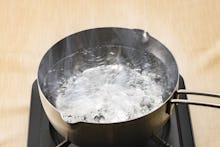 When 8-year-old Ki'ari Pope's cousin dared her to sip boiling water through a straw back in March, she obliged. She suffered burns in her mouth and throat and required a tracheotomy. On July 31, when Pope complained she couldn't breathe, paramedics called to the family's home rushed her to the hospital, the Palm Beach Post reported. Shortly after, she died.
Pope is just one victim of a dangerous viral trend called the Hot Water Challenge, said to be inspired by YouTube videos. In addition to Pope, the trend has left several kids with serious injuries.
Jamoneisha Merritt, 11, was at a sleepover Sunday night when her friends poured boiling water over her face as she slept. She suffered extreme injuries and may be left permanently disfigured. North Carolina 10-year-old Wesley Smith also suffered severe burns after attempting the challenge with his stepbrother, the boy's mother told WNCN.com, a CBS affiliate.
As seen in several disturbing YouTube and Twitter videos, the challenge involves surprising a friend by burning their body with boiling water. Another variation includes challenging someone to drink boiling hot water through a straw or pouring boiling water on themselves. In the videos — it's not clear if the water is ever really hot — victims scream and writhe in apparent agony; later, burns are often shown.
The victims' parents are speaking out
Parents have begun speaking out about the challenge. Jamoneisha's mother shared photos of her daughter in the hospital on social media, saying, "I need for these kids to know how serious this is."
"Parents, talk to your kids about these challenges," Pope's aunt, Diane Johnson, told CBS12.
Wesley's stepfather, Jimmy Daugherty, echoed her concerns. "Watch what your kids are doing on the internet," he told another CBS affiliate.
Why are these videos still on YouTube?
It's surprising such graphic videos have even been able to spread. Sensitive content, especially content that's violent in nature, is frequently flagged and removed from social media platforms. YouTube's community guidelines specifically bar "violent or graphic content." "Don't encourage others to commit specific acts of violence," it reads.
Mic has reached out to YouTube about why some of these videos have remained live on the site and will update this post if we hear back.
Should you be concerned?
Though the trend may be terrifying, the grave consequences and legal ramifications that come with attempting such a challenge are likely to hamper its ability to gain any long-term traction.
It's also worth remembering that most of these deadly viral trends involve just a handful of isolated incidents. Some videos in YouTube's most popular hot-water challenge compilations are several years old and originated in foreign countries. It's unlikely high schools in America will need to ban hot water anytime soon.