Oregon just became the country's first state to make fair work scheduling the law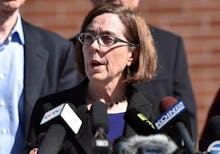 One of the biggest wins for fair work scheduling since the advent of the weekend just became law in Oregon.
Gov. Kate Brown signed into law on Tuesday the nation's first-ever statewide fair-scheduling law, increasing protections for Oregon workers with increasingly volatile work schedules.
The bill, known in Oregon as the "Fair Work Week Act" mandates that large companies with more than 500 employees nationwide notify workers at least a week in advance of their upcoming schedules. It also mandates a minimum of 10 rest hours between daily shifts.
While cities like New York City and San Francisco have passed similar measures, Oregon is the first to pass the policy statewide.
Fair scheduling has increasingly become a major issue for low-wage workers, as large companies often rely on such employees to be available for last-minute schedules with little to no notice.
A 2014 New York Times report cited several Starbucks employees who described erratic scheduling that made it all but impossible to maintain a family life outside of work. And according to Reuters, one in six Oregonians reported having less than 24 hours notice of their work schedules.