Here's how to give your buddy some bullets in 'PlayerUnknown's Battlegrounds'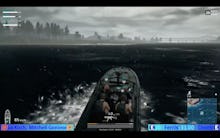 PlayerUnknown's Battlegrounds had its release delayed in July so the developers would have more time to create a well-made product. Because of its place on Steam Early Access, players should expect there to be some bugs that still need working out.
One of the harder-to-figure-out mechanics in the game is how to split up ammo. Say you're playing with a friend and they're out of ammo, so you're trying to give them some of yours — but not all of it. Splitting the ammo isn't the most intuitive thing in the world, so here's how you do it.
According to a post on Steam's forums, you'll need to hold down CTRL and drag the ammo to the ground. When you release, you'll be prompted to enter an amount you want to drop.
If you're a more visual person, the video above is a good demonstration. In the meantime, have fun supporting your team.
More gaming news and updates
Check out the latest from Mic, like this deep dive into the cultural origins of Gamergate. Also, be sure to read this essay about what it's like to cosplay while black, a roundup of family-friendly games to play with your kids and our interview with Adi Shankar, producer of the animated Castlevania Netflix series.