President Donald Trump doubles down on tough rhetoric against North Korea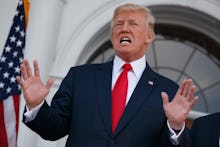 President Donald Trump ratcheted up his tough talk against North Korea on Thursday, telling reporters that his "fire and fury" comments on Tuesday were maybe "not tough enough."
When the press, gathered at the president's Bedminster, N.J., golf resort asked Trump to clarify the threats he made against the the rogue nuclear state earlier in the week, Trump said he could have gone even further.
"I think that's the first time [North Korea] heard it like they heard it," he said. "And frankly, the people that were questioning that statement, was it too tough, maybe it wasn't tough enough. They've been doing this to our country for a long time. For many years. And it's about time someone stuck up for the people of this country."
Later in the press conference, he elaborated to say that if North Korea and its leader Kim Jong-un "does anything in terms of even thinking about attack of anyone that we love or we represent or our allies or us — they should be very very nervous. Because things will happen to them like they never thought possible. He's been pushing the world around for a very long time."
His remarks, a reference to his hotly criticized threat that North Korea would be "met with fire, fury and, frankly, power, the likes of which this world has never seen before," follows a Wednesday statement from the DPRK's military criticizing President Trump as "bereft of reason" and saying that "only absolute force" would work on him.
The scale of the aggression of Trump's rhetoric against North Korea drew sharp rebuke from many in the media, the public and former government officials. Ned Price, former senior director of the National Security Council, told Mic that Trump's "irrationally bellicose response" was more concerning than North Korea's threats.
Still, the Trump administration appeared to be split in its handling of the situation with North Korea. While Secretary of State Rex Tillerson was in Guam assuring the public it had no cause for concern, Trump was bragging about the size and power of the United States' nuclear arsenal.
Echoing the ferocity of the president's rhetoric, Secretary of Defense James Mattis warned that North Korea should "cease any consideration of actions that would lead to the end of its regime and destruction of its people."