Donald Trump on opioids: "We're going to make it a national emergency"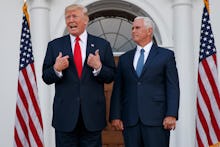 Two days after holding a briefing on the opioid crisis, President Donald Trump said Thursday he is going to declare a national emergency to stem the dozens of Americans dying each day from drug overdoses.
"I'm saying officially, right now, it is an emergency," Trump said Thursday from his Bedminster, New Jersey, golf club. The president was responding to a reporter's question as to why he hadn't yet declared a national emergency. "We're going to spend a lot of time, a lot of effort and a lot of money on the opioid crisis."
"There's never been anything like what's happened to this country over the last four or five years," the president continued. "This is a national emergency and we are drawing documents now to so attest."
There was speculation Trump would declare the emergency after a briefing on the national opioid epidemic Tuesday. Instead, he spoke of drug prevention and made no specific policy proposals.
The White House clarified later Thursday that the president did indeed declare a national state of emergency. At first, it was not clear whether Trump's words Thursday qualified as that declaration. Trump said earlier Thursday that his administration was "drawing up documents" and he was "officially" declaring it an emergency, but his administration has yet to release details as to what that statement means.
"Building upon the recommendations in the interim report from the President's Commission on Combating Drug Addiction and the Opioid Crisis, President Donald J. Trump has instructed his Administration to use all appropriate emergency and other authorities to respond to the crisis caused by the opioid epidemic," a White House statement said.
Such a declaration, recommended by a Trump-appointed commission on opioid addiction last week, would free up federal health care dollars to pay for drug addiction treatment. The declaration would also increase the capacity of the health care system to treat people addicted to opioids.
More than 560,000 people died from drug overdoses between 1999 and 2015. In 2015 alone, 33,000 people died from opioid related causes. Trump made lowering the death toll and levels of drug addiction a core promise of his 2016 presidential campaign.
August 10, 2017 at 7:15 p.m.: This story has been updated.