'Overwatch' Deathmatch Mode: Two new Arcade modes released on PTR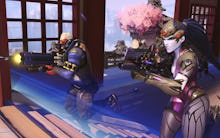 "I know at one point I said we would never have deathmatch in Overwatch — well, surprise, never say never," Overwatch director Jeff Kaplan said in his latest "developer update" video. "It's coming really soon and we think it's awesome."
Yep, that's right. Two new deathmatch modes are on the Overwatch public test realm right now, which will surely thrill any online first-person shooter purists who have been hungering for this classic game mode. The new deathmatch modes will also include a brand-new map important to Widowmaker's in-game history.
Here's what you need to know.
Overwatch deathmatch mode: Everything you need to know
Since Overwatch was built from the ground up to be a team-based game, Blizzard had taken the stance that it wasn't appropriate to include such an individualistic mode. Kaplan, however, said the Arcade mode — which is all about changing up the Overwatch formula in fun ways — is a perfect course of action to introduce something like deathmatch.
The first deathmatch mode is called "free-for-all," which will pit seven individuals against each other in a race to see who can rack up 20 eliminations first. That's right — no teams whatsoever.
The second mode is team deathmatch, which will pit two teams of six against one another in a race to 30 eliminations. Kaplan said Mercy's resurrect ability will actually subtract kills from the other team, so she's likely to be an important character in this mode.
So, where will you be playing these new modes? Kaplan said the Blizzard team has made some modifications to existing maps for deathmatch, but there's also a brand-new map on the way: Château Guillard, which takes place in Widowmaker's family state (before she was known as Widowmaker, of course).
More Overwatch news and updates
For more on Overwatch, check out the rest of what Mic has to offer. Here is an intro to the cute, new "Wholesome Overwatch" subreddit, a look at some gorgeous Overwatch-themed PS4 and Xbox One controllers, a cool Easter Egg in the new Horizon Lunar Colony map and a criticism of Blizzard's failures in its design of Symmetra.