In a tweet, President Trump warns North Korea that the US military is "locked and loaded"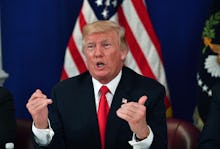 In yet another attempt to ratchet up his increasingly tough talk against North Korea, President Donald Trump took to Twitter Friday morning to warn the rogue nuclear state's leader Kim Jong Un that United States "military solutions are now fully in place, locked and loaded, should North Korea act unwisely."
In the same tweet, Trump emphatically encouraged Kim to "find another path," though the president offered no further details on what those military solutions — or that other path — may entail.
The president's Friday morning tweet continues in his vein of accelerated aggression against the nation of North Korea, which seemed to reach a boiling point earlier this week when Trump controversially threatened "fire and fury" against the nation, drawing the ire of his critics.
"[Kim Jong Un] has been very threatening beyond a normal state, and as I said they will be met with fire, fury and, frankly, power, the likes of which this world has never seen before," Trump said on Tuesday.
Following those remarks, North Korea announced that it was considering a strike on Guam, a United States territory in the Pacific.
But even as Secretary of State Rex Tillerson attempted to assuage the American people's anxieties over war between North Korea and the U.S., Trump took to Twitter to warn Kim that the U.S. nuclear arsenal was stronger than ever.
The president spent his Thursday pivoting from threatening North Korea to harassing Senate Majority Leader Mitch McConnell on Twitter. But the tensions with North Korea were back on his mind when he appeared before reporters at Trump's golf resort in New Jersey.
At that appearance, the president suggested that his comments on Tuesday — which were widely criticized for bringing the United States too close to the brink of war — didn't go far enough.
"I think that's the first time [North Korea] heard it like they heard it," Trump said. "And frankly, the people that were questioning that statement, was it too tough, maybe it wasn't tough enough. They've been doing this to our country for a long time. For many years. And it's about time someone stuck up for the people of this country."