The five things Donald Trump said in the past day you need to read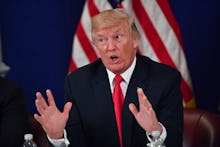 This is Mic's daily read on Donald Trump's America. Welcome to the political newsletter that is waiting for the angry Mitch McConnell tweet.
Want to receive this as a daily email in your inbox? Subscribe here.
What we're watching:
Today: Trump threatened North Korea, again.
More: He declared a national emergency to fight the opioid crisis.
Even more: He said he has not thought about dismissing Robert Mueller.
Yes, more: The president suggested Mitch McConnell may need to resign.
Trump's agenda today: Participating in a workforce / apprenticeship discussion. Meeting with U.S. Ambassador to the United Nations Nikki Haley.
The Donald Trump words you need to read
Thursday was a dizzying day of news. At Navigating Trump's America, we've got you covered.
But first — new Friday morning: The Trump tweet heard round the world.
"Military solutions are now fully in place,locked and loaded,should North Korea act unwisely. Hopefully Kim Jong Un will find another path!" the tweet said.
Speaking from his Bedminster, New Jersey, golf course on Thursday, the president broke news on several fronts. Here are the developments you need to know:
1) On North Korea: "If he does something in Guam, it will be an event the likes of which nobody has seen before, what will happen in North Korea."
If Trump means that literally, then it means he plans to use a hydrogen bomb — up to 1,000 times more powerful than the atomic bombs dropped on Japan at the end of World War II. Regardless of how literally he meant his comment, the president took an opportunity to double down on his strong rhetoric aimed at North Korea. Trump's words came a day after the country announced it may fire missiles at Guam, a U.S. territory in the south Pacific, later this month.
Early Friday morning, North Korea responded by saying it would "mercilessly wipe out the provocateurs making desperate attempts to stifle [a] socialist country."
2) On opioids: "The opioid crisis is an emergency, and I'm saying officially right now: It is an emergency. It's a national emergency."
That comment is a major pivot in national policy. It will greatly expand the ability of federal dollars and the health care system to treat people with drug addiction. More than 33,000 Americans died in 2015 from opioid related causes, and 142 people die a day from drug overdoses.
3) On special counsel Robert Mueller: "You say, oh, I'm going to dismiss him. No, I'm not dismissing anybody."
That contradicts reports that Trump has privately told friends he is considering firing Mueller. The president also said he has not been in contact with the FBI director, attorney general or Mueller about the Russia investigation or the recent raid on former Trump campaign chairman Paul Manafort's home.
4) On Mitch McConnell: "I'm very disappointed in Mitch." "Let's hope he gets it done."
The latter comment was in response to a question about whether McConnell should step down as Senate majority leader, a position he has held since 2014. Trump clearly suggested in the larger quote that McConnell must go if he cannot repeal and replace Obamacare — let alone pass tax reform. McConnell led Republican opposition to Barack Obama in the Senate from day one, waiting for his opportunity to push legislation with a Republican president. Then he got Trump.
5) On Putin expelling Americans from Russia: "I want to thank him because we're trying to cut down on payroll."
That was Trump's first public comment on Russian President Vladimir Putin expelling 755 workers from American embassies. Russia ordered the U.S. to downsize its diplomatic staff to the same size as Russia has in the U.S. — a move that came in response to the U.S. passing new sanctions on Russia.
News and insight you cannot miss:
New Friday morning: Congressional investigators want to question Trump's longtime personal secretary.
A federal agency said 2016 was the hottest year on record for the planet. Several other records that were set: Highest level of greenhouse gases, global sea level and sea-surface temperatures.
August is typically a time for lawmakers to meet with voters. But this year, only 13% of Republicans are planning to hold town halls. Here's how grassroots groups are responding.
A quarter of Americans believe Trump acted illegally with Russia.
Sebastian Gorka, a controversial national security adviser to Trump, questioned Secretary of State Rex Tillerson's ability to comment on North Korea. He later said he was just admonishing the media.
Here's how some people in Guam feel right now: "I'm not totally sure the U.S. wouldn't sacrifice us."
Trump says he's doing the military "a great favor" by banning trans people.
Last but not least, a whopping 69% of Americans want Congress and Trump to work on fixing the ACA rather than repealing and replacing it.