The "nuclear war romper" and other adventures in post-apocalyptic fashion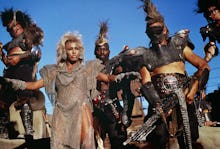 It almost feels like fashion has been obsessed with the end of the world since, well, the beginning of it. At countless runway shows and even fashion-centric television shows like Project Runway and RuPaul's Drag Race, the end of the world, whether it comes from a nuclear bomb or an outright apocalypse, has served as inspiration.
Fashion outlets have compiled fashion guides for the apocalypse. And even in films like Mad Max and The Hunger Games, fashion takes center stage because for some reason, we all think that when the end of the world comes, we're all going to feel propelled to wear ginormous shoulder pads and/or distressed denim and leather.
According to the online retailer Fashion Nova, maybe it's a romper we'll all need when the end of the world comes. We say that because right now, it's selling a "nuclear war romper" for reasons we do not know.
The romper doesn't look particularly durable or protective. It certainly doesn't look like it could withstand a nuclear war. But hey, what do we know. (In the meantime, Mic has reached out to Fashion Nova for some answers.)
Now this is just one instance of catastrophe inspiring fashion. There are so many more. So we decided to go down a few memory lanes and look back at some of the best fashion that's been inspired by the end of the world. Just in case you wanted to know, for a variety of reasons, all of which we deeply understand.
Tina Turner in Mad Max Beyond Thunderdome
When the end of the world comes, wouldn't you also want to be draped in silver chainmail like Tina Turner's character Aunty Entity is in Mad Max Beyond Thunderdome? We certainly would.
Rachael in Blade Runner
Set in the dystopian future of 2019 (nervous yet?), the 1982 film Blade Runner shows us all that even as the world is crumbling, you can look glam AF. The character Rachael, portrayed by Sean Young, is the prime example of this, with sharp black suits and retro-inspired outfits that we would happily wear right now.
Katniss in The Hunger Games
The 2012 film The Hunger Games shows us too that the end of the world doesn't mean everyone's forgotten how to dress. Jennifer Lawrence's Katniss is a good example of this, showcasing an array of slick leather pieces that do indeed seem durable and protective.
Tilda Swinton in Snowpiercer
I don't know about you, but if we too were living through an ice age, which Tilda Swinton's character Mason is in the 2013 film Snowpiercer, we'd be pretty jazzed at the idea that we could still pull off a cream suit. Though Mason is indeed very evil, girl's still got it.
This Hood By Air show
Back in 2014, Vogue wrote that the models at this particular Hood By Air show, wearing oversized denim and utilitarian wear, "suggested a raw savagery, or even a post-apocalyptic warrior."
Indeed, the models weren't primped and primed as most are, but left looking like they'd been through some shit.
Literally everyone from this RuPaul's Drag Race challenge
Back in 2012, RuPaul told the competitors of RuPaul's Drag Race that one week's theme would be the "Rupocalypse," and their runway looks should be "post-apocalyptic couture." Fittingly, the queens dressed in torn-apart clothes and futuristic-looking ensembles. "Waterworld couture," one contestant said on the runway. "Beyond thunder thighs," RuPaul quipped.
Indeed.
Furiosa in Mad Max: Fury Road
This is kind of like the piece de resistance of post-apocalyptic fashion. Furiosa, as played by Charlize Theron, is decked out in cotton and leather and metal. She also has a shaved head, because who cares about your hair when the world is basically a pile of dust?