Kesha refuses to let "the bastards" get her down on her new album 'Rainbow'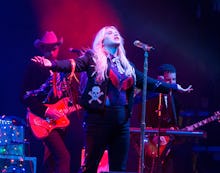 In the high school cafeteria of late-'00s and early '10s pop, Kesha was once the loft-party-haunting misfit who seemed to be having a way better time than anyone trying to fit in — think Allison Reynolds, the thoughtful loner Ally Sheedy played in The Breakfast Club, then add a bit of the sly scheming Alia Shawkat's Maeby Fünke engages in on Arrested Development and the wild-child persona of My So-Called Life's Rayanne Graff. Add a spray of glitter and a toothbrush taped to an in-flight-sized Jack Daniel's bottle, and you're almost there. She sang proudly about partying with P. Diddy and the impending apocalypse, adding weird edges to maximalist pop in a way that drew in listeners who would normally look down on top-40 fodder, but who couldn't resist her caterwauling along with psych-pop vets the Flaming Lips.
The past few years have revealed the bigger picture behind Kesha's art-school-dropout pose, and it's not a pretty one. In 2014, she filed a lawsuit against Lukasz "Dr. Luke" Gottwald, the pop guru who co-wrote and produced her biggest tracks, and to whose Sony Music imprint, Kemosabe Records, she was signed. The lawsuit alleged that Gottwald — whose string of 21st-century number ones includes Katy Perry's stomping "I Kissed A Girl" and Avril Lavigne's "Girlfriend," as well as his tracks with Kesha — had "sexually, physically, verbally and emotionally abused" Kesha for years, giving her drugs and fueling the eating disorder that sent her to rehab in 2014.
For a while, Kesha's legal woes were at the forefront of her narrative, in part because of her lawsuits' unsuccessful attempts to extricate her from her contracts with Sony and Gottwald, which state, among other terms, that she'll release at least six albums with him and that he's owed a portion of her royalties. But in July, her narrative took a new turn when she released "Praying," a stirring, slow-burn hymn produced by Ryan Lewis, the former right-hand man of Seattle hip-hop DIY'er Macklemore, and presented alongside a meditative video.
"Praying" shows off the full majesty of Kesha's voice, its ability to tremble and soar; its lyrics are half bless-your-heart, half kiss-my-grits, a snapshot of the brain's darkest point right before the proverbial dawn hits. In an essay, she expressed her hopes of it "reach[ing] people who are in the midst of struggles, to let them know that no matter how bad it seems now, you can get through it. If you have love and truth on your side, you will never be defeated."
"Praying" doubled as the announcement for Rainbow, Kesha's first album since 2012's Warrior. Executive produced by Kesha and featuring production and writing credits from (in addition to Lewis) piano man Ben Folds, pop architect Ricky Reed and Kesha's mother Pebe Sebert, Rainbow could have very well buckled under its expectations — but Kesha's irrepressible spirit saves it.
Rainbow opens with the stripped-down "Bastards," on which Kesha declares the album's guiding principle: "Don't let the bastards get you down." The ragtag, spunky songs that follow lay out Kesha's plans to do just that. Early on, the punk-pop sparkplug "Let 'Em Talk" and the breezily reggae-tinged "Learn to Let Go" specifically deal with past demons. But when the album's title track — a sweeping, piano-and-strings statement of purpose wherein Kesha invites listeners to "come and paint the world with me tonight" — arrives, the mood lifts, and Rainbow becomes a celebration of the freedom that comes from cutting an antagonist out of one's life. It whirls through genres, showcasing new sides of her persona.
"Hunt You Down" is a square-dance skip that hints at a potential murder-ballad sequel: "You say you've had your fun but that you're done and I'm the one/ Just know, that if you fuck around/ Boy, I'll hunt you down," she coolly threatens. "Boogie Feet" shimmies and shakes, using existential preoccupations as a come-on tool. "Boots" is serpentine urban-cowboy disco. "Godzilla" is a sweetly stated love song about being in love with someone who "eats the food court and steals half my fries" but is still lovable — even though he's a havoc-wreaking green monster.
At times, Rainbow brings to mind the rhetoric around Warrior; that album's run-up was accompanied by interview chatter about Marc Bolan, and the record contained a duet with Iggy Pop. Musically, though, Warrior offers a slightly rougher-edged version of the EDM-pop that had once taken her to the top of the charts, as opposed to the full-out rock tracks that appear on Rainbow. 2013's Deconstructed EP showcases moodier, more subtle reworks of Warrior tracks and an American-gothic version of "Old Flames Can't Hold A Candle to You," the country hit that her mother co-wrote with her ex-husband Hugh Moffatt nearly four decades ago. "Old Flames" shows up on Rainbow, too — Kesha and her mom, who share production credits on the track, blow it up into a honky-tonk power ballad in keeping with her bespoke Nudie suits; for good measure, her cover features Dolly Parton, who took the song to No. 1 on the country charts in 1980.
The pop landscape of 2017 has striking differences from the one of only four years ago, when Kesha last hit No. 1 with the country-tinged Pitbull duet "Timber." Female solo artists have become supporting artists at best in the Hot 100's upper echelons; Rihanna is the only woman in the current top 10, as a guest on DJ Khaled's "Wild Thoughts," while the highest-placing solo woman is Bronx-born rapper and actress Cardi B, whose feisty "Bodak Yellow" is at No. 14. Tumblr-pop upstart Halsey, Perry, New Zealand alt-art singer Lorde and California-girl prophet Lana Del Rey have all had No. 1 albums in the past few months, but those successes didn't translate to their solo endeavors hitting big on the singles charts.
But these conditions only add to Rainbow's overt and unspoken themes of liberation. Kesha's still a huge star whose music makes headlines; that songs from Rainbow might not crack top-40 radio's ever-tighter playlists isn't a worth-defining catastrophe, but a depressing sign of the times. Rainbow's arc, as it were, begins with Kesha stirring against the "bastards," picking apart their awful behaviors and even, eventually, showing them glimmers of forgiveness and dropping some cracking hooks along the way. But the second half, which shoves those antagonists aside in order to place Kesha's bravado, playfulness and musical roots on full display, exemplifies what pop can do at its best. She's bringing people together with her playful hooks, musical moxie and outsized personality, and helping them create another universe where those "bastards" have been exiled, and where people can shine.
Mic has ongoing music coverage. Follow our main music hub here.