The barriers against women running successfully for office start with money and end with mindset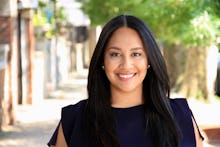 The night of the 2016 presidential election, Brette McSweeney, executive director of Eleanor's Legacy, a group that helps pro-abortion rights, Democratic women run for office in New York state, thought her job the next day would be to convince women that running for office still mattered, that winning just one presidential race did not a revolution make. As we now know all too well, that's not how the story went.
Instead, she would be tasked with convincing women that, despite the night's devastating blow to pushing women to run, they should still give it a go. "On the night of Nov. 8 I thought, 'Oh, shoot, how am I going to convince women that it's still worth it?'" McSweeney said. "How am I going to convince women that it's achievable even though the establishment is against you?"
It turns out, women didn't need any convincing to join the race. Following the election of Donald Trump, enrollment at the group's candidate school doubled to 60 women, according to McSweeney. National groups also saw a jump, with Emily's List reporting that 16,000 women had reached out to them since the election, said Julie McClain Downey, a spokesperson with the organization.
Over the next few months, the first waves of progressive, female candidates in the Trump era will face primaries and special elections that will test the enthusiasm and commitment of the activism seen in the days following Hillary Clinton's defeat. In many ways, the challenges they face, such as raising enough money to sustain a campaign and running against established men, remain the same as they always were.
Amanda Farias, a 28-year-old graduate of the Eleanor's Legacy candidate school, is herself facing an anti-abortion rights, anti-LGBTQ rights man in her campaign for New York City Council. Ruben Diaz Sr., a Pentecostal preacher in his 70s and a New York state senator, drew a rebuke from the Anti-Defamation League in 2009 for comparing abortion to the Holocaust. He also opposed gay marriage.
"This is a contentious race because I'm running against the senator," Farias said. "This entire year, I've been running against seven or eight men — I'm currently running against five men."
Farias was raised along with two siblings by a single mom in the Soundview section of the Bronx, which is in the district she's hoping to represent. Growing up, her neighborhood was both a food and transportation desert where residents had to walk up to a mile to get to a grocery store. Both issues form part of her platform. The ideas were there, but raising money immediately posed a problem for her.
"There's extra layers to being a woman and being a woman of color and you have to ask people for money," Farias said. "The first few months of fundraising, I'd say 'Oh, my friend just had a kid,' I would make excuses for why people couldn't contribute before I even asked. You have to look at it like, 'I'm an investment.' Just because I'm running for Bronx City Council doesn't mean that I'm not making policy that affects all of New York. "
With the help of the New York City Campaign Finance Board, which helps to fund electoral campaigns, Farias has so far raised $42,000, which has kept her competitive against Diaz, who has raised $124,993 in 2017, according to the Campaign Finance Board.
Without the backing of the influential Bronx Democratic County Committee, Farias, who worked on legislation for city council member Elizabeth Crowley, has focused on collecting endorsements from labor unions and groups like Planned Parenthood.
She's also been calling in favors.
"You need to call people and say, 'You remember that one time we met and you thought I was great? I need you to support me now'," she said. "You have to build that base and that network early on, even if you're not running for office. Don't forget about your connections, but also live your life!"
Tapping into a close community is exactly what Abby Finkenauer did when she first ran for a seat in the Iowa state legislature in 2014. Like Farias, Finkenauer, who is 28, ran for the open seat her former boss, Rep. Pat Murphy formerly held, who vacated the seat to run for Congress. Finkenauer initially balked at the idea. "I thought, 'Are you crazy? I'm 24 years old, I'm still paying student loans, I'm not married — anything that you could think that said I'm not a typical politician. But I did know the policy."
Although Finkenauer and Farias both intimately know the districts in which they are running, their very expertise can pose a problem. In her campaign for the presidency, Hillary Clinton displayed a command of international and domestic issues that led to voters seeing her as part of an establishment politics that they mistrusted. Having a pipeline of talented women running for higher offices can ensure that one defeat doesn't take out all women from contention, said McSweeney.
"So much attention gets paid at the federal level — 'Who's going to run in 2020' and, 'Can we take back the House in 2018?'" McSweeney said. "But before you get there, there's city council and state senate and these are not stepping stones, they are opportunities for women to serve."
Policies that most affect people happen at the local level, Farias argued. "Calling the president about your speed bump is not going to do anything about it," she said.
After years of serving on a state level, Finkenauer has set her sights on unseating Congressman Rod Blum, a Republican member of the House Freedom Caucus who won Iowa's 1st District seat in 2014. Blum gained some notoriety for walking out of a local TV news interview.
In the Trump era, politicians from both parties face Twitter mobs and harassment for their voters. In June, Kim Weaver, a Democratic challenger to Congressman Steve King, dropped out of the House race because of death threats.
Despite the polarized political climate, the 1st District, where Finkenauer is running, went heavily for Barack Obama in 2008 and 2012 and was expected to go for Clinton in 2016. The district is filled with what Finkenauer calls "Joe Biden Catholics." Those demographics, Finkenauer said, make for a swing district where gaining a Democratic seat is possible.
"With the record I've had standing up for women, standing up for the environment, standing up for labor, no one has to guess what my position is," Finkenauer said of openly sharing her progressive views. "When you're in the minority like I was in the statehouse, the Democrats haven't had control, you have to do more than push a 'no' button. You have to explain what's going on in your state."
Changing the perception of what women can do in office is the work of national groups like Emily's List, McClain Downey said.
"We aren't just training first-time candidates — we're helping them develop strategies," she said, citing the work of the organization in supporting Senators Jeanne Shaheen, Claire McCaskill and Tammy Baldwin, with whom they were involved from the beginning of their runs.
The group has endorsed Finkenauer in the race. Apart from the standard sexism that female candidates experience on the campaign trail, Finkenauer said her youth had led some to initially underestimate her knowledge on issues, such as raising wages.
"The barrier of what they expect of you can be pretty low, but once you talk to them and show them who you are and do it authentically, you can shift perceptions a little bit," she said.
Farias, too, has homed in on making sure her neighbors know who she is, hoping her experience as a policy writer at the city council will convince them that she's up for the job.
"I tell people I'm the seed you plant at the bottom and, hopefully, you bring that person up," she said. "I could be a city council member, I could be in Congress and then I could be mayor."