'NBA 2K18' hairstyles: You can re-create LaMelo Ball's do in the new game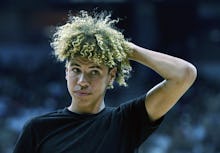 NBA 2K18 will finally feature new hairstyles. This aspect of the game is long overdue for an upgrade and one is finally coming in the new version due to for release on Sept. 19 (Sept. 15 if you preordered the game)
NBA 2K18 hairstyles: Everything you need to know
We haven't seen a full breakdown of all of the new hairstyles, but we have seen the new bleached mohawk. Here is a look at the art dev trailer that shows off some of the new features in the MyPlayer creation suite.
There are a number of athletes who are currently sporting the bleached mohawk, but one of the most popular is high school junior LaMelo Ball, the son of LaVar Ball and brother of Los Angeles Lakers rookie Lonzo Ball.
In previous NBA 2K games, it was impossible to accurately recreate Ball's hairstyle, but with the new additions, content creators will be able to capture Ball's signature feature.
There are other mohawks and even more trendy hairstyles that are new to the game. We haven't had a chance to explore all of the new options, but if the first trailer previewing the creation suite is a strong indication, the limits of the creation concept have been expanded.
More sports gaming news and updates
Love sports games? Check out more content from Mic, including news onNBA 2K18, Madden 18, WWE 2K18, MLB The Show 17 and the Nintendo Switch's sports games.