'NBA 2K18' Player Ratings: 5 players who could be rated higher than Kevin Durant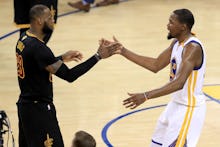 The Golden State Warriors' Kevin Durant is fresh off his first NBA championship and NBA Finals MVP award, and he's been given a 96 overall rating in NBA 2K18.
It's hard to argue with the mark, as Durant proved himself one of the league's best players on the biggest stage during the postseason.
As of now, Durant is the game's highest-rated player, though that could change over the next week or so. The following five players have a chance to be rated even higher than the 6-foot-9-inch small forward.
NBA 2K18 player ratings: Russell Westbrook
Durant's former teammate with the Oklahoma City Thunders won league MVP after becoming the first player to average a triple-double over an entire season since the 1961-62 campaign.
Westbrook is one of the NBA's most dynamic players, so it wouldn't be too surprising if he comes in rated a 97.
NBA 2K18 player ratings: Kawhi Leonard
The San Antonio Spurs' superstar small forward Kawhi Leonard is one of the most quiet and humble players in the NBA, but there's nothing unassuming about the 26-year-old, two-time NBA Defensive Player of the Year and former NBA Finals MVP.
Leonard is arguably the best two-way player in the NBA today. Were it not for an injury in Game 1 of the Western Conference Finals against the Warriors, Durant's destiny might have been very different.
Leonard's game literally has no weaknesses. If he's rated a 97, no one should bat an eye.
NBA 2K18 player ratings: James Harden
Westbrook won the MVP, but the Houston Rockets' James Harden finished second in the voting. Westbrook averaged a triple-double for a Thunder team that won 47 games, but Harden wasn't far off for a Rockets squad that won 55 contests.
Harden averaged 29.1 points, 11.2 assists and 8.1 rebounds per game. He's one of the NBA's most well-rounded offensive players who could be equal to Durant in overall rating.
NBA 2K18 player ratings: Anthony Davis
While he didn't guide the New Orleans Pelicans to the postseason, Anthony Davis is probably the best big man in the NBA.
He's only 24 years old, and he poured in 28 points per game while grabbing 11.8 rebounds and swatting 2.2 blocked shots.
He's a long shot, but the Unibrow shouldn't be too far behind Durant in overall rating.
NBA 2K18 player ratings: LeBron James
Durant's Warriors beat LeBron James and the Cleveland Cavaliers in the NBA Finals, but many will tell you The King is still the best basketball player in the world.
While Durant was having an MVP series, James was doing even better statistically on the losing side. He became the first player to average a triple-double in the NBA Finals.
When you consider his long-standing place as the game's best player, I predict he checks in at a 97 overall rating, just one notch ahead of Durant.
More sports gaming news and updates
Love sports games? Check out more content from Mic, including news on NBA 2K18, Madden 18, WWE 2K18, MLB The Show 17 and the Nintendo Switch's sports games.