Georgia official on R Kelly: "The public deserves an investigation"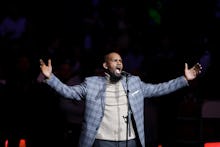 On Friday morning, Chairman John Eaves of Georgia's Fulton County Board of Commissioners announced he's asked the county's District Attorney Paul Howard to launch a criminal investigation against controversial R&B singer R. Kelly ahead of his Aug. 25 concert at the county's Wolf Creek Amphitheater.
The call comes based on new evidence gathered by the police in Johns Creek, Georgia, surrounding the allegations the singer has been physically abusing and sexually exploiting a group of young women in a sex "cult," as BuzzFeed News reported in July. The home where he is allegedly holding members of the supposed "cult" is located in Johns Creek, according to Fox 5 Atlanta. The Fulton County District Attorney responded Friday afternoon that there will not be a criminal investigation at this time, but added in a conversation with the Atlanta Journal-Constitution that he has assigned the file to his sex trafficking division for review.
This evidence has "severely raised the level of concern," Eaves said in a press conference, though he clarified in a phone conversation that this information is only "new" in the sense that it was recently delivered to the district attorney.
"The public deserves for an investigation to be done, and if there's nothing there, so be it," Eaves said over the phone. "If there's something there, let's continue on in the natural progression of potential prosecution."
"I believe that there are mothers and parents out there whose children have been exploited, who don't necessarily have a voice. Even though these are allegations, we want the message to be heard loud and clear that these type of things are unacceptable."
"I'm a father," he added. "I love my children. There are parents out there who have had children who have been victimized, and they don't necessarily have the position I have to speak out. So I'm speaking out, not just for myself and how I value children, but for the countless numbers of parents, women especially, whose children have been victimized."
The call for a criminal investigation follows a request, sent by Fulton County attorney Patrise Perkins-Hooker and obtained by Mic, that Live Nation cancel Kelly's upcoming concert at the Wolf Creek Amphitheater. This pushback was prompted by a petition circulated by members of the #MuteRKelly movement — a viral social media-based group that has been working to have the singer answer for his years of alleged sexual misconduct. Co-founded by Atlanta activists Kenyette Barnes and Oronike Odeleye, the hashtag movement prompted protests outside of Kelly's recent Detroit show and, according to Barnes and Odeleye, community organizing in Las Vegas; they said they believe that organizing contributed to Kelly's Vegas show being canceled.
Thus far, five of the dates of this leg of Kelly's tour have been canceled. #MuteRKelly's petition aiming to nix Atlanta's Fulton County show won unanimous support from the Board, according to Eaves, when presented before the Fulton County Commission on August 2. The commissioner said he plans to again reach out to Live Nation by Monday to let them know that "in addition to the potential investigation, there's a growing number of online petitions saying that they don't want the concert to be here."
"When Kenyette and I started the petition, it was with the humble aim to get R. Kelly off the radio and his Atlanta concert canceled," Odeleye wrote in an email exchange. "That it would garner enough attention to spread the #MuteRKelly movement to other cities, help dampen concert sales and get his concerts cancelled ... is way beyond our expectations."
In the email, Odeleye said she's "proud" of Fulton County for requesting that Live Nation cancel the upcoming concert, and of Eaves for asking for this criminal investigation. Barnes, though, had sharp words for District Attorney Paul Howard when Mic contacted her via Facebook.
"#MuteRKelly and allies are somewhat disappointed that DA Howard has decided to not investigate," Barnes said. "We however will encourage DA Howard to reconsider his decision." She added that she intends to contact his office Monday.
"It's our jobs as adults and as concerned and engaged citizens to protect our young people from predators that wish to manipulate and exploit them," Odeleye wrote. "Our silence has made us complicit in his child exploitation for the past 20+ years. It's well past time for him to be stopped. It's up to us to to stop him."
Mic has ongoing music coverage. Follow our main music hub here.