'No Man's Sky' Update: Atlas Rising patch adds co-op multiplayer, streamlined travel and more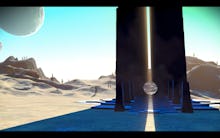 It's been a rough year for No Man's Sky. Only weeks after it was released, the highly anticipated space exploration game was offering refunds to disappointed players and for a while its most notable feature was a phallic plant growth.
In spite of that, the game has yet to fold and has just released an update. If you're confused but intrigued, here's what you can expect from the new No Man's Sky 1.3 Atlas Rises update.
No Man's Sky Atlas Rises Update: New update features streamlined travel, new mission systems and "multiplayer"
According to Kotaku, the new No Man's Sky update has the (perhaps overly aggrandizing) title Atlas Rises. Included in this update are a number of improvements to the game including new ships, aliens, updated graphics, a new way of generating player missions, new places to explore including space derelicts and 30 hours of new story to dig into. Atlas Rises will also add in "joint exploration," which sounds a lot more impressive than it actually is.
According to the Atlas Rise update page, players will appear in your game "visualized by strange floating orbs," and "up to 16 players can see and communicate with one another, and explore the universe together." So don't expect to be doing much with your companions outside of observing the sights and sounds of the universe. You can watch the trailer for the new update below if manifesting in your friend's world as a ball of light isn't a turn-off.
No Man's Sky Atlas Rises Update: The new improvements aren't likely to entice new players to the game
With the way joint exploration has been implemented, Atlas Rises is unlikely to attract new players to No Man's Sky, even those who are thirsty for more multiplayer. Without clear cooperative objectives or head-to-head competition, joint exploration doesn't really have much to offer new players outside of the thrill of wondering whether you're going to get called an a-hole over your microphone by someone you've never met.
Additionally, even the inclusion of more story and exploration banks on a player who's already invested in No Man's Sky's more freeform exploration. Players looking for a more streamlined open-world experience have probably already been better served by games like Legend of Zelda: Breath of the Wild, Uncharted: The Lost Legacy and even the divisive Mass Effect: Andromeda.
It's pretty obvious that the Atlas Rises update is geared towards players who are already invested in the No Man's Sky universe and are already familiar with how to interact with it. This isn't necessarily a bad thing, but if developer Hello Games is looking for an infusion of new players, they've still got a lot more work ahead of them.
More gaming news and updates
Check out the latest from Mic, like this deep dive into the cultural origins of Gamergate. Also, be sure to read this essay about what it's like to cosplay while black, a roundup of family-friendly games to play with your kids and our interview with Adi Shankar, producer of the animated Castlevania Netflix series.