Mic names Sarah Iooss Executive Vice President of Revenue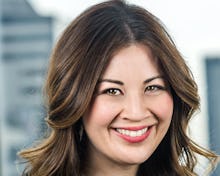 Former Viacom executive to lead sales efforts for the rapidly-growing digital publisher
Sarah Iooss joins Mic as executive vice president of revenue where she will be responsible for the management and growth of the sales team and market facing products. With Sarah in this new role Mic will focus on expanding its media solutions and brand content offerings, parlaying its innovative visual storytelling to inventive campaigns for brand partners. Ioos will report to President Jonathan Carson.
Iooss joins Mic from Viacom where she was most recently SVP of Business Development overseeing strategic partnerships advancing the company's social, digital, mobile, and data-driven marketing footprints. Notably, she led Viacom's partnership with Snap, extending its presence on Live Stories, Discover channels, and expanding its ad sales capabilities. At Viacom since 2004, Sarah has held numerous positions within the company prior to this where she collaborated deeply with editorial teams and content creators at the company, driving the development and expansion of multi-platform social partnerships, products and services for clients.
"This generation craves new insights and a diversity of viewpoints, fueling its passions and its purchases," said Jonathan Carson, President of Mic. "Sarah's creative and strategic approach to content, partnerships and communications is incredibly impressive and I couldn't be more excited to welcome her to the Mic team, helping to deliver those important perspectives to our brand partners."
"I'm a firm believer that consumers are looking for their social values to be reflected by the brands they interact with and support," added Iooss. ""I have followed Mic for some time with great admiration of how they help brands do exactly this. I'm thrilled to join this impressive team to help create impactful content and fuel even more important conversation amongst this powerful demographic of buyers."
Iooss will begin at Mic on August 14 in New York.