Trump's longtime personal secretary sought for questioning in Russia probe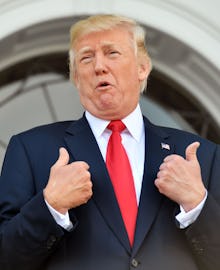 Congressional investigators want to question Rhona Graff — the personal secretary to President Donald Trump for close to three decades — as part of their probe into the Trump campaign's ties to Russia, according to several reports Friday.
Graff — who has not been accused of any wrongdoing — was named in the now-infamous email exchange between first son Donald Trump Jr. and music publicist Rob Goldstone, in which the Trump campaign was promised damaging information about Hillary Clinton.
The dirt, which had supposedly been collected by the Russian government, was never delivered, Trump Jr. said, but his June 2016 meeting with Kremlin-linked lawyer Natalia Veselnitskaya — which was also attended by then-campaign chair Paul Manafort and adviser Jared Kushner — has become a focal point of the investigations into possible collusion between Trump and Moscow.
"I can also send this info to your father via Rhona, but it is ultra sensitive so wanted to send to you first," Goldstone wrote Trump Jr. of Russia's supposedly incriminating information about Clinton,
It's unknown right now if Goldstone ever did reach out to Graff, who reportedly still serves as a "point of contact" for the president, but ABC News reported that she has long been a key gatekeeper for the president and is known to handle his emails.
According to Alan Futerfas, an attorney representing Trump Jr. amid the Russia probes, Graff has not yet been contacted by investigators, but will cooperate with any inquiries.
Russia investigations get increasingly close to Trump
The news that investigators are seeking to interview Graff is the latest indicator that the simultaneous Russia probes being conducted by Congress and special counsel Robert Mueller are getting increasingly close to those in Trump's inner circle.
In May, it was reported that Kushner — the president's son-in-law and senior adviser — was under FBI investigation over the "extent and nature of his interactions with the Russians." He had left several contacts with Russians — including Veselnitskaya — off his security clearance form, which has led some critics to call for his top-level clearance to be reviewed or revoked.
While he had reportedly neither been the center of the investigation nor accused of any wrongdoing, revelations that he was being investigated showed that the FBI's Russia probe had expanded to include current White House employees.
After the 2016 Trump Tower meeting with Russians came to light in July, it was reported that Trump Jr. — the president's eldest son — was also being investigated by Mueller's FBI probe.
Trump Jr., Manafort and Kushner have also been subjects of the House and Senate Trump-Russia investigations.
On July 26, the day after he testified before the Senate Intelligence Committee, Manafort was the subject of an early morning FBI raid at his Alexandria, Virginia, home, the Washington Post reported Wednesday.
Investigators obtained a "wide-ranging" search warrant and seized several records from the home, some of which had already been provided to Congress, according to the Post.
Though a spokesperson for Manafort said he cooperated with investigators, Asha Rangappa — a former FBI special agent and CNN analyst — said Wednesday that obtaining a warrant shows how far the probe has progressed and that Mueller's team may not trust Manafort.
On Thursday, Trump commented on the pre-dawn FBI raid on Manafort, saying he was surprised by it and that it was a "very, very strong signal, or whatever."
"I thought it was pretty tough stuff to wake him up," Trump said, calling Manafort a "very decent man." "Perhaps his family was there. I think that's pretty tough stuff."