Guam issues fact sheets preparing residents for a nuclear attack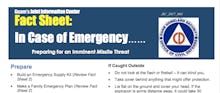 Three days into a period of heightened tensions between the United States and North Korea and six months into a Donald Trump presidency, experts seem to be mostly sure the looming threat of nuclear warfare won't come to fruition.
Then again, there's always a chance.
To prepare for a worst-case scenario, the Homeland Security Department for Guam — the tiny U.S. territory North Korean President Kim Jong-un has threatened with missile launches if Trump continues to ramp up his saber-rattling rhetoric — has issued fact sheets instructing residents on how to prepare for a nuclear strike.
The two-page flier includes such ominous warnings as "Do not look at the flash or fireball — it can blind you" and "When possible, take a shower with lots of soap and water to help remove radioactive contamination. Do not scrub or scratch the skin."
If North Korea were to launch a missile at Guam, it would take just 14 minutes to make landfall, giving civilians little time to seek shelter from the blast.
Trump kicked off his third day of aggressive posturing toward the hermit kingdom on Friday, tweeting that U.S. military solutions were "locked and loaded, should North Korea act unwisely" and encouraging despotic leader Kim Jong-un to "find another path."
North Korea's bluster about launching missiles began after Trump ad-libbed a line during a press briefing at his Bedminster, New Jersey, golf course about confronting the country with a "fire and fury like the world has never seen" if it continued to make belligerent threats against the U.S.
Although Guam remains on alert, Gov. Eddie Baza Calvo took pains to assure residents on Wednesday that there was no immediate danger.
"I want to reassure the people of Guam that currently, there is no threat to our island," he said.