NYPD — and protesters — are gearing up for President Donald Trump's return to New York City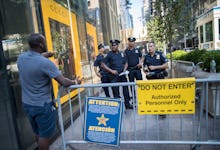 Despite Thomas Wolfe's assertion to the contrary, sometimes you can in fact go home again — but for President Donald Trump, that's way more complicated than it used to be.
The billionaire commander in chief has largely stayed away from his hometown of New York since his inauguration in January, repairing instead to one of his other lavish properties, such as his Florida estate at Mar-a-Lago, when he wants a break from the White House.
Trump made one visit to Manhattan in early May, meeting with Australian Prime Minister Malcolm Turnbull and attending a dinner at the Intrepid Sea, Air and Space Museum. The president didn't stay in the city overnight.
This weekend, however, the president will return to Trump Tower in midtown Manhattan for the first time since taking the oath of office — and both the police and the protesters are making ready.
Trump, who's been bunking at his golf resort in Bedminster, New Jersey, during a 17-day "working vacation," is slated to arrive Sunday.
He announced his plan to come back to the city via his beloved Twitter account on Monday, saying he'd attend meetings while in town.
Trump's 2016 candidacy put pressure on the area surrounding his signature Fifth Avenue building, and the headaches sharpened after his November victory as the NYPD and the Secret Service wrangled with the challenge of securing Trump Tower without bringing midtown to a standstill.
The traffic snarls, protests and multi-million dollar cost of defending the tower spurred at least one member of the New York City Council to urge Trump to transfer operations elsewhere and spare the public the aggravation of navigating around blocked-off streets and even sidewalk scuffles.
The demonstrations have continued even in the president's absence, although security restrictions have eased up somewhat.
This time, "Police officials estimate the cost of securing the president while he's in town is roughly $300,000 per day," Bloomberg reported, but that price could fluctuate based on who accompanies him and how long he sticks around.
New York Mayor Bill de Blasio, a Democrat, is not known as one of Trump's fans.
Still, according to DNAInfo, de Blasio said during an unrelated Monday news conference that he was grateful the president had "kept his time here very limited and the disruption very limited" since taking office and that the city's "expert" police force would be prepared for Trump's arrival.
The NYPD issued a special advisory ahead of the visit, announcing plans to "establish vehicle security checkpoints for random safety inspections on Fifth and Madison avenues in the vicinity of Trump Tower" and urging the public to use mass transit.
A number of groups are organizing people to gather outside Trump's skyscraper to protest everything from nuclear war amid current U.S. tensions with North Korea to the president's stance on immigration.
One coalition plans to give Trump a decidedly morbid welcome by leading demonstrators in a mock funeral procession to the president's eponymous highrise.
"Trump is killing us," says a Facebook invitation to the Monday march, "whether it is by killing our democracy, threatening war on North Korea, targeting our immigrant communities, or wanting to end the policies that allow black and brown people to access higher education."
Participants are asked to "PLEASE WEAR BLACK" and "feel free to bring candles, pictures, and symbols of the people, beings, and things Trump is killing."
Trump, of course, has his diehard supporters, as well.
A separate Facebook group has announced a rally in midtown to celebrate the president's return.
"Let's greet our hometown hero to show our appreciation and support for all he's done for our nation," the invite for the Sunday gathering said, encouraging participants to break out the "American flags, MAGA hats & pro-Trump signs/banners."