A silent 10-minute song is skyrocketing up the iTunes charts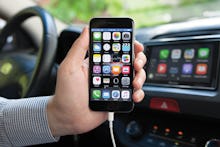 Every time you plug your iPhone into your car stereo, the first song (in alphabetical order) automatically plays.
People hate hearing that same song so much, they've begun downloading a 10-minute "song" that's pure silence.
The track is the work of Samir Mezrahi, a New York City-based creative consultant and founder of Kale Salad Media. He struggled with this problem himself, eventually becoming so frustrated that he decided to come up with a solution.
Since a lot of cars automatically begin playing music from a user's iTunes library alphabetically starting at the top, he recorded a 10-minute ballad called "A a a a a Very Good Song" that is nothing more than silence. Because of the name, this song will always appear on the top of your list, giving you 10 blissful minutes of silence to adjust your seat, pull out of the driveway and queue up some songs you do want to hear.
"My automatic-play song has been Taylor Swift's 'All You Had to Do Was Stay' and it would play every time I got in the car," Mezrahi said. "It's obviously a good song, but it got annoying to have to hear it over and over again every time I got in my car. I feel like the autoplay function on cars has ruined a lot of people's favorite songs. I made 'A a a a a Very Good Song' so they could get that feeling back."
So far, music fans have been thrilled. The song has steadily climbed the iTunes charts since its release Monday, hitting No. 30 in the U.S. on Friday morning. Mezrahi's tweet announcing the track garnered over 15,000 likes and nearly 5,000 retweets.
Mezrahi said he doesn't know exactly how many downloads the song has gotten, but he's just happy to be helping people out. He said the song could also serve purposes outside of the car — like, maybe you need a break after plugging in your headphones, for instance.
"It's on services like Apple Play, Spotify and Apple Music, too," Mezrahi noted. "It's been fun to learn about how music gets onto all these platforms."
You can download the song here.