Kamala Harris and the successful woman of color trap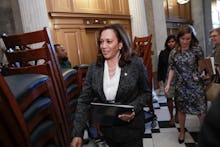 We're seven long months into the Trump presidency and two things are very clear. Some progressives are still (understandably) stuck on losing the election and their belief that, had the left not criticized her so much, Hillary Clinton would be president. Others are preoccupied with how Clinton supposedly didn't address the concerns of a growing population of people distrustful of establishment politics, the way Bernie Sanders did.
The debate over why the Democrats lost was reignited recently over Kamala Harris. In July, Mic published a report stating that the junior Democratic senator from California had a "Bernieland" problem. According to some of Sanders' most ardent supporters, who Mic interviewed, Harris doesn't pass the leftie sniff test — that her background as a prosecutor and apparent coziness with big financial interests make her insufficiently progressive to be their 2020 presidential candidate.
Some readers cried racism. But Ryan Cooper at The Week claimed that race had nothing to do with certain progressive criticisms of Kamala Harris, Cory Booker and Deval Patrick (tragically lumping them all together). It was an ideological disagreement — not a double standard engendered by their blackness — that prompted leftist critiques, he argued. Some black women pushed back. Brittney Cooper responded by writing that black women are the backbone of not just American politics, but the left as a whole, and to "leave Kamala Harris alone." Joy-Ann Reid hosted a panel on MSNBC discussing when, how and if we should critique Harris. Her answer was, "[Not] now."
In a conversation I had with Zerlina Maxwell (who was on Reid's panel) — a political commentator, former Clinton campaign staffer and another woman of color in a leadership position (currently at Sirius) — we grappled with the question of how to balance critiques of powerful women of color while also recognizing that they are navigating racism and sexism just by doing the work they are doing, literally by existing in spaces they have been denied access to historically.
Maxwell's thoughts were strong in defense of Harris. "The criticism of Kamala Harris is a manifestation of privilege," she told me. "It's a privilege to demand total and complete purity from a woman of color running for office who already has substantial structural barriers to entry."
Maxwell is not wrong, but as I was talking to her I realized two dynamics were playing out — first, the post-election stress of losing to Trump, whose presidency has the potential to be most detrimental to communities, and specifically women, of color; and second, the trauma of trying to get ahead in a system that has it out for you. As women of color navigating career life, there are seemingly endless questions: Am I being hired for my talents or because I'm a person of color? Am I being being passed on for promotion because I am not good enough, or because I'm experiencing sexism and racism? These thoughts run like a broken record in the back of your head, and it can be hard, on a purely emotional level, not to get defensive when you see a woman —especially a woman of color as successful, competent and hard-working as Harris — get criticized.
At the same time, Harris's critics have a point. Sure, she's a woman of color, but she's also a prosecutor who made her career putting people in jail, which is hardly the face of criminal justice reform. And while she did recoup $20 billion for Californians screwed by banks in the financial crisis, she declined to prosecute now-Treasury Secretary Steven Mnuchin — then the head of OneWest Bank — over his bank allegedly breaking foreclosure law, after which he donated to Harris's senate campaign. (It's also worth noting that, similar to some of the most ardent criticisms of Barack Obama, women of color have been some of Harris's most vocal critics).
But Zerlina was also right — much like this smart piece in the New Republic — in arguing that women of color in politics are held to purity tests their male counterparts aren't. This is equally true in business and for women in other leadership positions. Perhaps it is a reflexive reaction: we want to convince ourselves we live in a meritocracy, so to prove that, we are "just as hard" on women and people of color as we would be on white men. The problem is we usually end up being harder.
Trying to separate legitimate criticism from the experience of race or gender is impossible — they are inextricably linked. That may be why, regardless of how far to the left a woman of color political writer may be compared to Harris's politics, she will still likely acknowledge both the objectifying deification of black women in politics, and the sky-high standards women of color are often held to.
So the question I am left with is, how do we fairly criticize someone we know needs to be held accountable, like Harris, but who we also know is being held to a different standard because she is not white and male? The answer likely lies in how the future of the left looks more broadly. Is it a future beholden to diversity with less interest in political purity? Or are we going to hold candidates to a political standard so rigorous that few — if any — will pass it?
Both sides of the debate have valid points. Some would argue that Harris is exactly who Democrats need because she's progressive, she's smart and she's a woman of color in a country (and party) that desperately needs to reflect the needs of a changing country that lost brutally in the Trump-fueled culture wars. And if the left is interested in engaging the Democratic Party's most loyal voting bloc — black women — it behooves them to figure out how to appease Harris's supporters in a way that actually engages with their concerns and prioritizes the issues that matter to the communities they are trying to build power in.