'WWE 2K18' New Features: What to expect from the SummerSlam preview weekend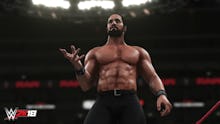 Every year during the WWE SummerSlam weekend, 2K holds an event on Friday to showcase the version of WWE 2K set to release in the fall. The event will take place on August 18 this year. I've attended the hands-on session each of the last four years. If you've never followed the coverage of the event, here's an idea of what you'll see from members of the media that are on hand.
WWE 2K18 SummerSlam Preview: Hands-on impressions
A number of individuals with access to an early build of the game will share their takes on their experience. Normally, there are one or two match types available with three or four playable characters.
Most of the members of the media will have high expectations for this year's game. This is the fifth year 2K has had the WWE license. This year's game should deliver the best gameplay experience yet. If it doesn't the impressions won't be favorable.
WWE 2K18 SummerSlam Preview: New features
We've learned about a few of the new features such as Road to Glory, but expect to see other details emerge about gameplay, Universe mode, Promo Engine 2.0 and more. Some of the initial explanations were intentionally vague. More meat should be added in an effort to kick the hype and anticipation for the game into high gear.
WWE 2K18 SummerSlam Preview: Roster unveils
There used to be a formal roster reveal during SummerSlam weekend, but we haven't heard any news about that this year. Some members are likely to be released, but a full role call of Superstars is unlikely. We did learn that the roster would feature nearly 200 wrestlers. As is the case each year, the full roster will be among the most-wanted pieces of pre-release info.
WWE 2K18 SummerSlam Preview: Screenshots
We've already seen some of the new screenshots that show off the game's new graphics engine. The lighting is especially impressive and it leaves fans wanting to see more of the game. While gameplay will be the most sought-after form of media, WWE 2K fans should expect and enjoy a few new screenshots of the game as well.
More sports gaming news and updates
Love sports games? Check out more content from Mic, including news on NBA 2K18, Madden 18, WWE 2K18, MLB The Show 17 and the Nintendo Switch's sports games.