Steve Bannon's job in the White House could be in trouble. Again.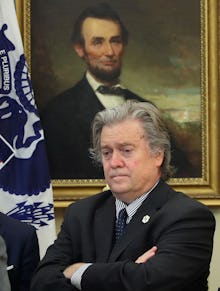 Steve Bannon — President Donald Trump's chief strategist — once again appears to have his back against the wall.
According to Politico, the former Breitbart head's future at the White House is uncertain as chief of staff John Kelly considers further staffing changes.
Kelly — who took over the top White House post in July following the ouster of Reince Priebus — has sought to stabilize a young administration beset by chaos by quelling the rampant infighting that's plagued the White House and imposing order on a dysfunctional staff.
That's imperiled Bannon, who commands a large staff for his nebulous position and has been suspected of using his right-wing media connections to go after enemies within the administration.
Reports going back several weeks have painted Bannon as increasingly isolated in the White House. In late July, it was reported that he had been conspicuously absent from major policy discussions and hiding away in a "self-imposed exile" to try and hang onto his job. Little seems to have changed in the last few weeks, according to Politico, as the man once dubbed "President Bannon" remains in Washington while other top administration officials are with Trump in Bedminster, New Jersey.
Bannon's ups and downs in the Trump administration
Still, Bannon's been here before.
In April, Trump — after a rocky start to his presidency — had reportedly planned a centrist push away from Bannon's slash-and-burn governing approach and toward a more "competence and results-driven" one backed by advisers Ivanka Trump and Jared Kushner, his daughter and son-in-law.
Then, as now, Bannon was said to have been isolated within the administration amid a power struggle with Kushner. Kushner's influence in the White House grew throughout the spring, while Bannon — the architect of Trump's unlikely win last November and a key player on the travel ban — found his influence waning. He even reportedly threatened to quit after being removed from the National Security Council in early March.
But by April, Bannon had apparently ridden out the storm, working his way back into Trump's inner circle.
"Steve was benched, and I think it got his attention and he realized he had to step up and show the president how valuable he is," a source close to the White House told The Hill. "He's kept his head down and got back to work and was ready when he was called upon."
It remains to be seen if he'll be able to survive this latest round of scrutiny, this time by Kelly, who has told aides that the White House will be "different soon," according to Politico.
"Too many people who populated the West Wing didn't have their Number One priority as expert service for the president and therefore the country and were too concerned about the inside game," Matt Schlapp, a conservative activist close to the White House, told the publication. "When a White House turns into this extent of factions, it really destroys your ability to implement an agenda."