In Charlottesville, white nationalists cite Donald Trump as inspiration for "Unite the Right" rally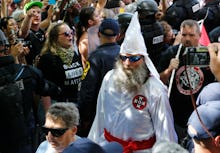 Former Ku Klux Klan leader David Duke suggested on Saturday that President Donald Trump is inspiring the white nationalist "Unite the Right" rally in Charlottesville, Virginia.
Asked by a reporter what the alt-right rally means to him, Duke said that it represents a "turning point for the people in this country."
"We are determined to take our country back," Duke said. "We're gonna fulfill the promises of Donald Trump. That's what we believed in. That's why we voted for Donald Trump, because he said he's going to take our country back."
Duke — a former member of the Louisiana House of Representatives who is attending the rally — was a vocal supporter of Trump's presidential campaign and congratulated him upon his inauguration in January, tweeting, "We did it!"
Trump came under fire for initially declining to denounce Duke, whom he claimed to "know nothing about."
"I don't know anything about what you're even talking about with white supremacy or white supremacists," Trump told CNN during the campaign. "So I don't know. I don't know — did he endorse me, or what's going on? Because I know nothing about David Duke; I know nothing about white supremacists." 
Police have declared a state of emergency in Charlottesville — home of University of Virginia — as violent confrontations break out between white nationalists and counter-protesters, including an incident overnight in which a crowd of white nationalists carrying torches encircled a group of counter-protesters.
After being criticized for failing to comment on the rally, which was held in response to plans to remove a statue of Confederate General Robert E. Lee, Trump finally issued a statement on Twitter Saturday afternoon, urging Americans to "come together as one!"
Other top Republicans, including House Speaker Paul Ryan and Sen. Orrin Hatch (R-Utah), also condemned the white nationalists.
First lady Melania Trump also commented on the rally before her husband, tweeting that "no good comes from violence."
August 12, 2017, 1:34 p.m.: This story has been updated.