Live updates: State of emergency in Charlottesville as white nationalists ordered to vacate park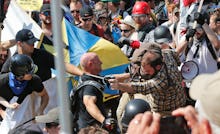 Emancipation Park — where white nationalists clashed with counter-protesters Saturday in Charlottesville, Virginia — has been evacuated after officials declared a state of emergency.
The confrontations between white nationalists and counter-protesters at the Unite the Right rally began overnight, when a counter-protest group was encircled by torch-wielding white nationalists.
President Donald Trump did not initially comment on the rally as it descended into violence Saturday afternoon, but tweeted later that "there is no place for this kind of violence in America."
Before he issued his statement, first lady Melania Trump called for a stop to the violence in a tweet.
House Speaker Paul Ryan tweeted an even more forceful denunciation of the Charlottesville rally, calling the white nationalists "repugnant."
The scene on the ground in Charlottesville — home to University of Virginia — was chaotic Saturday, with groups shouting at one another and engaging in violent confrontations.
Charlottesville police confirmed that a car plowed through counter-protesters on Saturday. After the incident, one was reported dead and 19 injured.
In the early afternoon, police in riot gear were on the scene, clearing the area where the white nationalists were rallying against the planned removal of a statue of Confederate Gen. Robert E. Lee.
Just after noon, the white nationalists had apparently been completely driven out of Emancipation Park, which counter-protesters celebrated as a victory.
Meanwhile, medics had set up at nearby McGuffey Park to flush pepper spray and hand out water.
The rally was attended by some prominent white nationalists. Richard Spencer, founder of the so-called alt-right, was reportedly arrested during the rally. Former Ku Klux Klan leader David Duke was also present and told reporters that the white nationalists were energized by Trump.
"We are determined to take our country back," Duke said at the rally. "We're gonna fulfill the promises of Donald Trump. That's what we believed in. That's why we voted for Donald Trump, because he said he's going to take our country back."
Jack Smith IV, Eric Lutz and Chauncey Alcorn contributed reporting.
Aug. 12, 2017, 4:34 p.m. Eastern: This story has been updated.