What do we really mean when we say "petite"?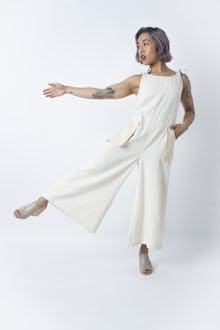 When you hear the term "plus sized," most people generally know what someone is talking about. They're talking about the women who are a size 12 or larger, who are in those Lane Bryant ads and fighting to find their place in the fashion industry. You think of women like Ashley Graham, Denise Bidot, Melissa McCarthy and Queen Latifah.
But then on the other side of the size spectrum, you have what's formally known as "petite," and that's not a word that has such a clear and obvious definition. Despite the average American woman standing at 5'4", the word "petite" remains confusing to many. To some, the word "petite" conjures up visions of very thin, pixie-like women, like Tinkerbell, Mila Kunis or Kristen Chenoweth. She is small and slight and sprightly.
"I think there's this idea of something petite being something you can 'put in your pocket' — or at least that's a phrase that gets used a lot with the word petite," Bianca Caampued, who's five feet tall and the co-founder of Small Girls PR, said. "Or that petite just means tiny all around. But obviously it doesn't work the other way around when you say the word thin. You wouldn't automatically assume petite, [like] a tall person could be thin. So the words aren't interchangeable, but the word petite can be associated with thin in people's minds."
To clear things up a bit: "Petite" is in reference to a woman's height, and not her weight. A petite woman can be a size 2 or a size 8 or a size 12 or a size 18. If she's roughly shorter than 5'4", which is the industry standard to be considered petite for retailers like Stature and Ann Taylor Loft and Asos, then she's petite, full stop.
Then if you think about the retail world, the word "petite" could end up conjuring up visions of petite sections in department stores, which are less Ruth Negga and more Dr. Ruth, with unflattering and matronly prints and silhouettes.
"You say the word 'petite' and you get this vision of a poorly-lit afterthought section next to a missus section," Avani Agarwal, who's five feet tall and is the co-founder of Stature, an online store aimed at short women, said. "Like professional attire for your first job out of college."
"What comes to mind is a little pantsuit or a petite sophisticate," Camille Moroz, who's five feet tall and the other co-founder of Stature, added. "What you think is these little sweater sets. Petite becomes this personality trait rather than a size difference."
These two visions, according to the truly petite women we spoke with, are confusing the idea of what "petite" is really intending to describe. And in spite of petite sections in department stores across the United States, petite women do not all want to wear sweater sets or professional attire. They're women of various sizes and ages and styles, just like women of any other height.
Currently, much like plus-size clothing, petite clothing is trying to evolve and craft a better reputation. Agarwal and Moroz's Stature is a prime example of this. Instead of stocking sweater sets and professional attire, they duo is finding high-quality, sometimes designer pieces that fit smaller frames, meaning the hems are shorter and the armholes are higher and the waist could theoretically hit a shorter woman's waist.
Currently, most of the clothing Stature sells is a size S or XS, but according to Agarwal and Moroz, women who don't usually fall into those sizes shouldn't be totally miffed. The most important thing to look at is measurements. Many of the clothes at Stature are oversized, so a size small could fit a woman who isn't normally a size small.
"When it comes to our clothing, we only feature clothing on models who are 5'3" and under, and we alter length according to torso length, shoulder width, sleeve lengths, inseams, armholes and the distance from the shoulder to the bust to the waist," Agarwal said.
Eventually, they of course want to expand the sizes they stock, but Stature is already doing something important in the industry. They're using truly petite models, which allows petite women to see what garments would really look like on their frame. It's a vital step that could lead to fashion taking petite women more seriously.
"If more and more brands actually started making products that span the size range, and use 'petite' models in campaigns, that would be a step in the right direction," Caampued said. "The social/digital landscape has allowed us to be able to see people actually using/wearing brands' products and merchandise in a real-life way, and more and more brands have begun to tap 'real people' reflective of their customer base. It's like anything else — the more awareness brought by both the brand and the consumer (or influencers), the more it becomes accepted as a norm."
For shorter women, a fashion revolution really may be coming their way.