Trump gets slammed "on many sides" as David Duke rips Charlottesville response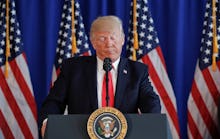 After a day of violence and chaos at a white nationalist rally in Charlottesville, Virginia, President Donald Trump condemned hatred "on many sides" in a bizarre statement from Bedminster, New Jersey.
"We condemn in the strongest possible terms this egregious display of hatred, bigotry and violence on many sides, on many sides," Trump in a press conference Saturday. "This hate and division must stop, and it must stop now."
The statement — which did not mention the alt-right or white nationalists — received immediate backlash from those who felt the comments did not go far enough and that he'd drawn a false equivalency between the white nationalists protesting the removal of a Confederate statue and the counter-protesters.
Trump had also been criticized for an earlier tweet on the rally, in which he condemned "all that hate stands for," which Senate Minority Leader Chuck Schumer said was inadequate because it failed to specifically condemn white nationalists.
Schumer wasn't the only one who found Trump's tweet lacking.
Former Ku Klux Klan leader David Duke — who earlier in the day had said at the rally that white nationalists were working to "fulfill the promises of Donald Trump" — tweeted that he and his fellow white supremacists were under "attack" by the president.
"I would recommend you take a good look in the mirror & remember it was White Americans who put you in the presidency, not radical leftists," Duke tweeted to Trump.
Alt-right glassjaw Richard Spencer, who was at the rally Saturday, also went after the president, tweeting that Trump had praised police who "cracked down on peacefully and lawfully assembled demonstrators."
He also responded to a tweet by first lady Melania Trump — whose comments on Charlottesville preceded her husband's — in which she said that "no good comes from violence."
"We came in peace," Spencer wrote. "It was the government and antifa that used force against peaceful, lawful demonstrators."
The violent confrontations at the "Unite the Right" rally Saturday were capped by an incident in which a car plowed through a group of counter-protesters, reportedly killing one and injuring 19.
Hallie Jackson, chief White House correspondent with NBC News, asked the administration what Trump had meant with his controversial "on many sides" comment.
A White House official seemingly doubled down on Trump's statement, saying that "there was violence between protesters and counter protesters today."