James Alex Fields Jr. identified as suspect in deadly Charlottesville car crash, police announce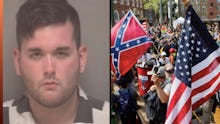 Authorities have identified the suspect who allegedly plowed through a crowd of pedestrians during a white nationalist protest in Charlottesville, Virginia, killing a woman, as James Alex Fields Jr.
According to CNN, the 20-year-old Ohio resident is being held on suspicion of second-degree murder, in addition to malicious wounding and failure to stop in an accident that resulted in death.
The 32-year-old victim's identity has not yet been released.
White supremacists clashed with counterprotesters during the "Unite the Right" rally, which was protesting the proposed removal of a monument to Confederate Gen. Robert E. Lee.
Following the incident, President Donald Trump came out against the violence saying at a press conference, "We condemn in the strongest possible terms this egregious display of hatred, bigotry and violence on many sides, on many sides. This hate and division must stop, and it must stop now."
The FBI announced on Saturday that it is opening a civil rights investigation into the incident.
In addition to the pedestrian death, Charlottesville police officers in a helicopter responding to the violence were killed in a crash.
Virginia State Police also announced three arrests in connection to the rally as of 10 p.m. Troy Dunigan, 21, was charged with disorderly conduct; Jacob L. Smith, 21, was charged with misdemeanor assault and battery; and James M. O'Brien, 44, was charged with carrying a concealed handgun.
Aug. 12, 2017 10:58 p.m.: This story has been updated.