National security adviser HR McMaster suggests Charlottesville car attack is terrorism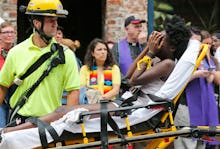 At a Sunday appearance on This Week, H.R. McMaster, President Donald Trump's national security adviser, strongly suggested that Saturday's fatal car attack in Charlottesville, Virginia, was an act of terrorism.
"Any time that you commit an attack against people to incite fear, it is terrorism," McMaster said of the fatal attack, which left a 32-year-old woman dead and several more injured at the "Unite the Right" rally in Charlottesville. "But what you see here is someone who is committing a criminal act against fellow Americans that may have been motivated by this hatred and bigotry which, I mentioned, we have to extinguish in our nation."
The national security adviser appeared later on Meet the Press to double down on his earlier comments.
"What terrorism is, is the use of violence to incite terror and fear, and of course it was terrorism," McMaster told host Chuck Todd.
McMaster's condemnation of the attack as terrorism appears to be the first such categorization from Trump's White House. His remarks sharply contrasted the immediate statement from the president, who seemed to suggest that those protesting the event were as complicit in the hate and violence as the white supremacists and neo-Nazis gathered there.
"We condemn in the strongest possible terms this egregious display of hatred, bigotry and violence on many sides, on many sides," Trump said at a press conference shortly after the fatal car attack. "This hate and division must stop, and it must stop now."
The president's statement drew the ire of critics on both sides of the political spectrum for its failure to name white nationalism or white supremacy as the primary motivation for the violence on Saturday, which overall left three people dead — including the victim of the car attack — and 35 injured.
Authorities identified the suspected driver of the vehicle that mowed through a crowd of pedestrians at the rally as James Alex Fields Jr. The suspect's Facebook was reportedly rife with Nazi imagery.
August 13, 2017 1:41 p.m.: This story has been updated.