James Alex Fields Jr.: What we know so far about the Charlottesville car attack suspect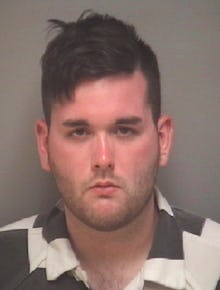 Police in Charlottesville, Virginia, announced Saturday that James Alex Fields Jr. had been taken into custody as the suspect in the car attack that left a 32-year-old woman dead at a white supremacist rally earlier that day.
Fields, a 20-year-old residing in Maumee, Ohio, is currently being held on suspicion of second-degree murder, along with malicious wounding and failure to stop in an accident that resulted in death.
Prior to the attack on Saturday, Fields was photographed at the rally carrying a shield provided by white supremacist organization Vanguard America — though in a statement posted to Twitter, the group denied Fields was a member.
Here's what else we know about the Charlottesville suspect.
The Kentucky native's mother wasn't aware of his suspected views
Fields moved to Maumee with his mother, Samantha Bloom, from Florence, Kentucky, in 2016, the Toledo Blade reported.
The silver Dodge Challenger that Fields allegedly drove during Saturday's attack was purchased in Florence in 2015, according to a Carfax report cited by the Associated Press. The Blade reported that Fields was recently charged for having "expired or unlawful license plates" on the vehicle by the Maumee Police Department.
The 20-year-old had moved out of his mother's apartment a few months earlier, Bloom told the Blade. She also said she "[tried] to stay out of his political views" and was unaware of the white supremacist nature of Saturday's rally.
"I thought it had something to do with Trump. Trump's not a white supremacist," Bloom said in an interview with the Associated Press, adding that Fields "had an African-American friend" when asked about his white supremacist beliefs.
Bloom's neighbors were similarly unaware of the views held by the 20-year-old, whom they said would "blast polka music" from the Dodge vehicle used in the attack.
"I've never spoken with the gentleman, I don't know anything about him," neighbor Bob Rose told the Blade. "You just never know. Until you get the whole story, you can assume what you want. Was he there to cause mayhem? Was he a white supremacist? I don't know."
Rose added that if Fields does hold white supremacist views, "I don't want to know him."
The suspect was reportedly "infatuated" with Nazis
Though his mother and neighbors may not have realized it, Fields reportedly displayed clear signs of his white supremacist views.
According to the New York Daily News, Fields' Facebook page, which was deactivated Saturday night, was "peppered with alt-right and Nazi imagery," including a baby photo of Adolf Hitler and image of alt-right symbol Pepe the Frog.
In an interview with the Associated Press, Fields' former history teacher revealed Fields has long had a fascination with the Nazi Party, describing the suspect as "quiet" and "respectful" with "radical ideas on race."
"He was very infatuated with the Nazis, with Adolf Hitler," former teacher Derek Weimer told the AP. "He also had a huge military history, especially with German military history and World War II. But, he was pretty infatuated with that stuff."
"In his freshman year, he had an issue with that that was raised, and from then on we knew that he had those issues," Weimer added, telling the AP that he would "constantly try to steer him away from those beliefs to show clear examples — why that thinking is wrong, why their beliefs were evil, you know, things like that."