White House spokesman: "Of course" Trump's Charlottesville response "includes white supremacists"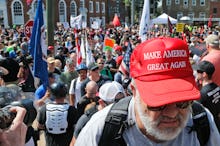 President Donald Trump faced criticism from both sides of the political aisle for his comments following Saturday's white supremacist rally and car attack in Charlottesville, Virginia. Now, the White House seems to be trying to walk his comments back.
Trump tweeted on Saturday that he condemned "all that hate stands for," rather than directly calling out the white nationalists behind the "Unite the Right" rally.
At a press conference on Saturday, Trump failed again to explicitly criticize the groups at the heart of the Charlottesville violence. "We condemn in the strongest possible terms this egregious display of hatred, bigotry and violence on many sides, on many sides," he said in a statement.
White nationalists in Charlottesville cited Trump as an inspiration for the rally.
The president's silence on white supremacy drew widespread criticism even by those in his own party, as many other prominent Republicans and Trump allies — including the president's own daughter — were quick to use the term in the wake of the attack.
The White House attempts to clarify Trump's statement
An unnamed White House spokesman issued a clarification on the president's statement Sunday, claiming that Trump's "very [strong]" statement had included white supremacist groups.
"The President said very strongly in his statement yesterday that he condemns all forms of violence, bigotry and hatred and of course that includes white supremacists, KKK, neo-Nazi and all extremist groups," the White House statement said, as published on Twitter by NBC News. "He called for national unity and bringing all Americans together."
Though the White House claims Trump's condemnation of white supremacy was implied in the president's Saturday statements, that seems to have been lost on members of far right movements, who largely celebrated the president's non-specific remarks.
Alt-right movement leader Richard Spencer published a tweet interpreting Trump's Twitter statement as a criticism of the anti-fascist "antifa" movement, while white supremacist website the Daily Stormer wrote that Trump's press conference comments "were good," adding that there "was virtually no counter-signaling of us at all."
"He said he loves us all. Also refused to answer a question about White Nationalists supporting him. No condemnation at all. When asked to condemn, he just walked out of the room," the Daily Stormer wrote. "Really, really good. God bless him."