Donald Trump's silence on white supremacist terror isn't an anomaly — it's a tradition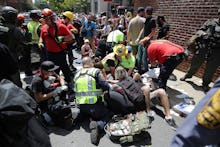 If you saw President Donald Trump's response to the terror unfolding in Charlottesville, Virginia, on Saturday, you'd be forgiven for not knowing who he was condemning. Speaking from his golf club in Bedminster, New Jersey, Trump blasted the hatred and bigotry purportedly being expressed on "many sides" of the conflict.
"We condemn in the strongest possible terms this egregious display of hatred, bigotry and violence on many sides, on many sides" Trump said. "This hate and division must stop, and it must stop now."
To be clear, there are two sides here. On one are the assorted white nationalists and supremacists who converged on Charlottesville to protest the removal of a statue of Confederate General Robert E. Lee. On the other are the University of Virginia students, clergy, anti-fascists and left-leaning groups who gathered to protest against them.
Only one of these sides features a participant — James Alex Fields, Jr. — who has been arrested on suspicion of committing what appears to be a terrorist attack, allegedly plowing his car through a crowd of anti-racism protesters and killing one person. (A photo of Fields marching with the white nationalist group Vanguard America began circulating after his alleged crime; the organization has since denied Fields is a member.)
Trump's condemnation of "many sides" was so vague, in fact, that alt-right leader Richard Spencer wondered if the president's ire was being directed at the anti-fascists.
"Did Trump just denounce antifa?" Spencer tweeted.
Spencer's statement may seem willfully obtuse, and the White House has since clarified that Trump's statement "includes" neo-Nazis and the Ku Klux Klan. But it's a fair conclusion to draw. Spencer is expressing what could be the defining feature of Trump's presidency: a tendency to court white supremacists and articulate their grievances while declining, hypocritically, to name them and denounce their violence.
On Saturday, the president had a chance to condemn an apparent terror attack — what looks to be the first of his seven-month presidency, which he won in part by claiming he was "tough on terror." Instead, Trump wilted, cowered and drew false equivalences. And by doing so, he demonstrated why white supremacy has thrived in the United States for as long as it has.
If the primary exit polls are to be believed, one of the things that endeared Trump most to his supporters was his willingness to "tell it like it is." Many read his election as a backlash against so-called "political correctness." Where Democrats like former President Barack Obama spoke of terrorism in imprecise terms for fear of offending Muslims, Trump galvanized voters by being unafraid to name what they saw as the real enemy: "radical Islamic terrorism."
Trump's platform reflected this outlook. The president vowed to block Muslims from entering the United States, and implemented several iterations of a travel ban accomplishing just that. He famously claimed that "Islam hates us" during a CNN interview last year. Trump has rarely been anything but blunt when selling himself as tough on terror, and claiming Muslims are the most pressing national security threat Americans face.
It didn't matter that white supremacist terrorists have, for centuries, been the more cogent domestic threat to Americans' safety — from the lynch mobs of the Reconstruction era to the Ku Klux Klan to more recent mass killers like Dylann Roof. It didn't matter that Trump was getting heat for declining to reject the endorsement of white supremacist leaders like Spencer and David Duke. These people were among his most loyal supporters. He'd even rewarded them with a presence in his White House, in the form of ex-Breitbart head Steve Bannon.
But Saturday was an example of Trump's posturing clashing with his loyalties. After years of champing at the bit to sell Americans on the purported threat posed by Muslims, his silence on white violence further exposed his hypocrisy. In lieu of what would've presumably been the politically perilous decision to embrace his racist followers outright, he opted for vagueness, even going so far as to skip assigning blame for what police are investigating as a homicide.
This is the hidden story of white supremacy in America, the fuel behind the lynchings and police killings and blood on the floor of black churches: passive white complicity; quiet acceptance of a racist status quo; drawing false equivalences when discussing white violence, as if white supremacists are on moral par with the people fighting against them.
This is the kind of leadership that has let white supremacy fester in the United States so long after many presumed racism passé. Trump is not an anomaly. He is carrying on an American tradition. And at this moment in history, as Klansmen and neo-Nazis march brazenly through college towns, cities and rural communities across the country, waving their tiki torches, it's fitting that he's the man to whom we've handed the White House keys.