Hundreds rally in New York in solidarity with Charlottesville anti-racism protesters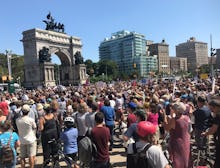 Hundreds of New Yorkers gathered in Brooklyn on Sunday to protest the violence at a white supremacist rally in Charlottesville, Virginia, on Saturday that left a 32-year-old woman dead and many others injured.
The Rally for Peace & Sanity — which was organized by anti-extremism group Indivisible Nation BK — saw a throng of activists, politicians and everyday New Yorkers come together on Sunday morning at Grand Army Plaza in solidarity with the anti-racism protesters who attended the "Unite the Right" rally in Charlottesville. The Southern Poverty Law Center said the Virginia rally was the largest gathering of white supremacists in the United States in decades.
The Brooklyn event was originally announced earlier this week in response to President Donald Trump's rhetoric on North Korea, organizers said. But it was the president's reaction to the violence in Charlottesville that brought several people out to the rally Sunday.
"The incident happened with the car, and our commander and chief came up and [blamed] both sides instead of calling it what it actually was," Chris Passley, one of the event attendees, said in reference to Trump's widely criticized blaming of "many sides" after a car plowed through protesters in Charlottesville. "That was very troubling, to believe that the person who is supposed to protect us … cannot acknowledge when actual terrorism is happening in this country."
Passley called on white people to speak up, pointing to his wife's sign, which read, "White silence is violence! Stand up!"
"If you don't speak up, you're agreeing. You're agreeing with what's happening, and that in itself is fuel," he said.
"When David Duke is saying, 'We are going to fulfill the promises of Donald Trump,' and Trump in response says there was hatred on both sides, the only thing left for people to do is come out and say this is not appropriate," Lisa McNulty, one of the rally attendees, told Mic.
Among the most noteworthy of the Brooklyn event's speakers were New York State Assembly member Jo Anne Simon, New York City Council member Jumaane Williams and Democratic Rep. Yvette Clarke, who told the crowd that President Donald Trump has failed the American people.
About halfway through, the Rally for Peace & Sanity observed a moment of silence for Heather Heyer, the 32-year-old paralegal who was killed when a driver plowed his vehicle through a crowd of pedestrians and anti-racism protesters at the "Unite the Right" event. James Alex Fields Jr. has been named by local authorities as the suspected driver of that vehicle.
The Rally for Peace & Sanity is one of dozens of anti-racism rallies organized to condemn the violent white supremacy on display at rallies like "Unite the Right." According to It's Going Down, an organizational hub for the loose collective of anarchist and anti-fascist protests, there are more anti-racism events planned nationwide until at least Aug. 20.
Mic's Stephanie Clary contributed additional reporting to this story.
August 13, 2017 2:12 p.m.: This story has been updated.