Jason Kessler: What to know about the organizer of the "Unite the Right" rally in Charlottesville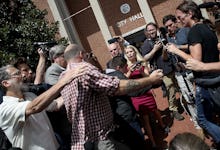 Jason Kessler appeared at a press conference Sunday afternoon to address the "Unite the Right" rally he'd organized in Charlottesville, Virginia — a violent gathering of white supremacists that resulted in at least three deaths and many more injuries.
But Kessler never got to have his full press conference, where he was expected to admonish police officers for failing to protect the First Amendment rights of the white nationalists in attendance.
He was chased away by protesters before he got the chance to deliver his remarks, according to footage captured by reporters on the scene.
Who is Kessler, the organizer of what the Southern Poverty Law Center said might be the "largest hate-gathering of its kind in decades in the United States?"
According to the SPLC, a group that tracks hate in America, Kessler is a relative newcomer to the sphere of white nationalism in America — an area that many argue has grown increasingly crowded since President Donald Trump's successful campaign.
Kessler runs an alt-right blog called Real News, which regularly attacks the far-right movement's opponents on the left. One of the targets of Kessler's screeds was Charlottesville Vice-Mayor Wes Bellamy, whom the blogger accused of divisive, anti-white politics after Bellamy called for the removal of confederate monuments from the city.
A video from June shows Kessler inciting uproar at a Charlottesville city council meeting, where he defended what he described as white people's "right to organize and advocate for [their] rights."
Kessler has been convicted for "shoplifting, obstructing justice and for a string of failures to appear and register, in addition to numerous traffic violations and citations," according to the SPLC, an organization Kessler has called a "hate group."
In May, Kessler was sentenced to 50 hours of community service as the result of an assault conviction.
In a statement following Saturday's rally, Kessler blamed Charlottesville government and law enforcement for the violence.
"The blame for today's violence is primarily the result of Charlottesville government officials and the law enforcement officers which failed to maintain law and order by protecting the First Amendment rights of the participants of the 'Unite the Right' rally," Kessler's statement said.
Some on Twitter pointed out that "Unite the Right" may not be the last we see of Kessler and his white nationalist events: Brian Fallon, a former staffer for Hillary Clinton, pointed to Kessler's alleged involvement in a rally for free speech in Boston, though organizers for that event deny any connections.