'Hot Mic' podcast: The Charlottesville protests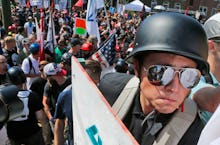 Listen and subscribe to the Hot Mic podcast from your mobile device:
Here are the important stories to know for Monday, August 14:
1. Police identified the woman who died when a car slammed into a group of anti-racism protesters in Charlottesville, Virginia.
2. President Trump was heavily criticized for his vanilla statement condemning the violence during the protests.
Direct from Mic's newsroom, Hot Mic keeps listeners informed with a daily run-down of top stories, breaking news and analysis from our news team.