GoDaddy tells the 'Daily Stormer' it will no longer host the white supremacist site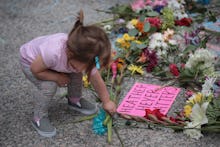 Most people don't read the fine print of the terms of service that are baked into many websites and products. On Aug. 13, white supremacist site the Daily Stormer was reminded that the fine print can have consequences.
The site's domain — but not its content — has been hosted by the internet company GoDaddy. But after the site included hateful remarks in its coverage of one of the Charlottesville, Virginia, protest's victims, which GoDaddy has decided was inflammatory, the company gave the Daily Stormer 24 hours to relocate its domain, a decision it announced in a tweet.
GoDaddy's terms of service include a clause forbidding the promotion of terrorism or violence. The article that has been cited as problematic featured derogatory language about Heather Heyer, a 32-year-old paralegal who was killed in Charlottesville on Aug. 12.
In a statement to Mic, a GoDaddy spokesman wrote, "Given their latest article comes on the immediate heels of a violent act, we believe this type of article could incite additional violence, which violates our terms of service."
He added that the company would cancel the Daily Stormer's services if the domain wasn't moved within 24 hours.