Donald Trump's response to the Charlottesville tragedy did him no favors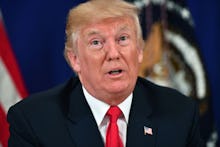 This is Mic's daily read on Donald Trump's America.
Want to receive this as a daily email in your inbox? Subscribe here.
Today: Three people are dead after violence and hate in Charlottesville.
More: President Donald Trump faces criticism for his response to the violence.
Even more: White supremacists came roaring back into public view this weekend.
Trump's agenda today: Returning to Washington. Meeting with Chief of Staff John Kelly. Meeting with the National Economic Council. Signing a memorandum on Chinese trade. Traveling to Trump Tower in New York City.
4 ways the tragedy in Charlottesville has damaged Donald Trump
The weekend's events in the typically peaceful college town of Charlottesville, Virginia, were horrific. The brutality there driven by white supremacists at their "Unite the Right" rally captivated the country. And it damaged a president who already has low approval ratings, problems working with Congress and a lack of trust among Americans.
1. President Donald Trump's advisers could say what he would not. Trump faces criticism as he has yet to say or tweet a specific rebuttal of white supremacy. On Saturday, Trump condemned "hatred, violence and bigotry on many sides" in a statement that made no mention of white supremacists.
The white hate groups that flocked to Charlottesville were condemned on Twitter by first daughter Ivanka Trump. On ABC's This Week, H.R. McMaster, the national security adviser, called the attack terrorism. "We have no tolerance for hate and violence from white supremacists, neo-Nazis or the KKK," Vice President Mike Pence said during a visit to Cartagena, Colombia. On Monday morning, Attorney General Jeff Sessions condemned white supremacist groups.
For what it's worth: Trump was tweeting about "Obstructionist Democrats" Monday morning, not Charlottesville.
Trump may soon be the last official in his administration to have the opportunity to condemn white supremacists.
2. White supremacists took note of — and cheered — Trump's lack of condemnation. To be clear, Trump never offered any support of the groups in Charlottesville. But white supremacist groups took his initial statement to mean he was not condemning them, and potentially attacking the other side.
On Sunday, an email statement sent to journalists from an anonymous White House official criticized "white supremacists" and "all extremist groups," but was still seen by many as too little, too late.
3. Republicans further distanced themselves from Trump. GOP members of Congress issued outright condemnation of white hate groups. Specific mentions of the Ku Klux Klan, neo-Nazis and white supremacists came from Sens. Ted Cruz (R-Texas) and Marco Rubio (R-Fla.) along with Sen. Cory Gardner (R-Colo.), a member of Senate Republican leadership.
4. Trump now faces renewed pressure to dump Steve Bannon. Bannon, Trump's chief strategist, has long faced criticism for his support of the alt-right. That intensified over the weekend as many called for Bannon to be fired. Bannon is already under pressure for potential links to a weekslong campaign by conservative media to smear McMaster.
A speed-read on what happened in Charlottesville
Hundreds of white supremacists began gathering in Charlottesville on Friday night to protest the planned removal of a Robert E. Lee statue. The removal of monuments to the Confederacy have sparked protests in the past, but nothing like the "Unite the Right" event. That was intentional. Jason Kessler, the protest organizer, aimed to assemble as many white hate groups as possible from across the country.
This drew counterprotesters. On Friday night, a small group of University of Virginia students surrounded the statue of Lee as hundreds of white supremacists holding burning Tiki torches encircled them. Fights broke out between the groups.
On Saturday, a much larger contingent of counterprotesters descended on the town. Clergy, college students, locals, Black Lives Matter activists, violent antifascists and others opposed the hate gathering. By the early afternoon, numerous scuffles had broken out, despite a heavy police presence. The violence peaked when 20-year-old James Alex Fields Jr. was identified by police as having rammed a car into a crowd.
\Fields, who is believed to have links to far-right extremist groups, was charged with second-degree murder for killing Heather Heyer, 32. Two Virginia State Police officers, Lt. H. Jay Cullen, 48, and Trooper-Pilot Berke M.M. Bates, 40, died when their helicopter that was on patrol crashed near Charlottesville.
What's next?
Trump will continue to face pressure to specifically condemn white supremacists. Attorney General Sessions said the Department of Justice would investigate Heyer's death.
Expect more to come out about the radicalization of Fields. A Twitter account is trying to identify and shame white supremacists in photos that went viral. A far-right website promised to go huge" with similar events.
BLM leaders placed the blame for Saturday's violence on Trump. Around the country, thousands rallied to show support for victims in Charlottesville.