'Pokémon Go' Mewtwo Raid: Stadium event offers 100% catch rates, but it won't last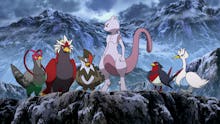 The Yokohama Pikachu Outbreak promised Pokémon Go players something extraordinary at a Pokémon Go Stadium event Aug. 14. It turns out something extraordinary might have been underselling it a little bit. Players at the stadium had the chance to catch Mewtwo, and everyone who participated in a raid walked away with the legendary Pokémon in tow.
Here's how it happened.
Pokémon Go Mewtwo raid: All players at the Stadium event received 52 Premier Balls and a 100% catch rate
According to the Verge's Sam Byford, in spite of some connection issues throughout the event reminiscent of the Pokémon Go Fest in Chicago, the actual Stadium portion went off pitch perfectly.
With the number of people corralled in the Stadium, it wasn't a huge challenge to take down Mewtwo when it appeared, Byford noted. To add onto this, each trainer who successfully defeated Mewtwo within the time limit received a whopping 52 Premier Balls to catch it with, not that it really mattered. Byford reported that everyone standing around him succeeded in catching it on their first try.
Pokémon Go Mewtwo Raid: 100% catch rate probably won't stick around
In a thread on the Silph Road, players discussed what the catch rate for Mewtwo would probably be when it was given a wide release. Although some players assumed it would be 2%, finding actual data to corroborate that proved difficult. According to user FakeKitten, this is because Mewtwo's catch rate isn't yet in the Game Master files for the game.
Regardless of the catch rate, now might be a good time for Niantic to reconsider how many Premier Balls they provide trainers who successfully take down a legendary raid. Fifty-two is probably overkill, but bear in mind that even with the generous 1% increase to catch rate on Articuno, Zapdos and Moltres, you still needed to hit a "great" ranked curveball 10 times to hit an overall capture chance of 88% — which means even if your team contributes the most, you can still only miss one throw.
Bumping the catch rate and provided Premier Balls was an obvious and savvy decision for Niantic to make at Yokohama, but without extending at least some of those benefits to trainers worldwide, Mewtwo's release is likely to be treated with frustration and annoyance instead of the excitement it ought to provoke.
More Pokémon Go news, updates, tips and tricks
Raids are here — and not just for ordinary Pokémon. Check out our coverage of the legendaries now in-game, Lugia and Articuno. If that's not enough, check out our tips for making the most of raids and what counters you should focus on finding, as well as what to do with the Golden Razz Berries and TMs you find after completing them. Find out what went wrong at thePokémon Go Fest in Chicago while you wait for the debut of the European Safari Zones in August and September. Finally, check out some reporting on the issues plaguing rural players a year after launch, how the game created a space for black female gamers and how Pokémon Go can continue to build its community.