'Horizon Zero Dawn' DLC Release Date: Here's when you can play 'The Frozen Wilds' expansion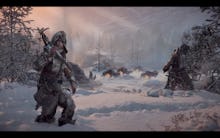 Horizon Zero Dawn first announced its downloadable content expansion at E3 2017, but at that point, there was no date of official release. Now, thanks to a post on the PlayStation blog, it's been announced that The Frozen Wilds DLC will be released on Nov. 7.
The expansion seems to take Aloy, the game's main character, to some Arctic wastelands with new beasts. Aloy in the trailer says that she's there to go to the mountain and find "answers." From the trailer, it doesn't seem like there are any new creatures, although it's possible that Guerrilla is trying to keep them secret until closer to release.
In the same blog post, it announced that an exclusive Horizon Zero Dawn avatar will be available in the PlayStation store for those who preordered the expansion. If you haven't preordered yet, the expansion is $19.99 — or 14.99 if you're a PS Plus member.
A lot remains to be seen for the expansion, like how big the new area will be, if it will include any major plot elements or if there will be fun new gear. For more information about the expansion, which will be coming out as we get closer to release, follow Guerrilla on Twitter or Facebook.
More gaming news and updates
Check out the latest from Mic, like this deep dive into the cultural origins of Gamergate. Also, be sure to read this essay about what it's like to cosplay while black, a roundup of family-friendly games to play with your kids and our interview with Adi Shankar, producer of the animated Castlevania Netflix series.