Pikachu Snapchat Filter: The electric Pokémon is now a filter and we can't say we're shocked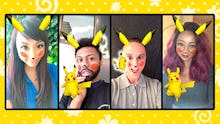 It's not often that Pokémon Go and Snapchat join forces. Pikachu, the electric mouse we all associate with the pocket monster series, is now a filter on Snapchat.
Snapchat's Pikachu filter will only be available for a limited time, according to Pokémon Company, so start snappin'.
Pikachu Snapchat Filter: Lets you thunder-shock friends with a selfie
Pikachu's ears and charged dots can be accessed by revealing the app's face filters. And no, they aren't the color filters that require you to keep location tracking on to use.
With the selfie camera on, tap and hold on your face until you see face filters appear on screen. Swipe the options until you see Pikachu. Once selected, you'll grow ears and dots on your face. Pikachu will join you on screen if you open your mouth, but careful if you're at work or in class: The electric mouse will make noise if you have your phone's sound on.
Pokémon filters are cool, and thankfully without blackface
It isn't mentioned in the company's blog post or press release as to why the Pikachu filter has come to Snapchat, though it may have to do with the celebration happening in Japan. Pikachu Outbreak 2017 has come to Yokohama in Japan, along with a conveniently timed Pokémon Go event where players have been able to catch rare shiny Pikachu and Mewtwo.
Other Pokémon, like the legendaries Niantic released this summer, could neatly tie the game with Snapchat and make for some cool filters. Just avoid adding in a Jynx filter. The last thing Snapchat needs is more blackface.
More Pokémon Go news, updates, tips and tricks
Raids are here — and not just for ordinary Pokémon. Check out our coverage of the legendaries now in-game, Lugia and Articuno. Find out what went wrong at the Pokémon Go Fest in Chicago while you wait for the debut of the European Safari Zones in August and September. Finally, check out some reporting on the issues plaguing rural players a year after launch, how the game created a space for black female gamers and how Pokémon Go can continue to build its community.