After weekend of violence, Donald Trump rebukes racism as evil; names specific hate groups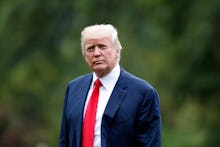 After a weekend of violence at a white supremacist rally in Charlottesville, Virginia, President Donald Trump made an unscheduled appearance before press at the White House on Monday to denounce racism.
"Racism is evil," Trump said. "And those who cause violence in its name are criminals and thugs — including the KKK, neo-Nazis, white supremacists and other hate groups."
Trump's condemnation of specific white racial hate groups comes days after he received fierce criticism for decrying violence on "many sides," rather than violence solely from white nationalists and neo-Nazis following the white supremacist violence on display at the "Unite the Right" rally on Saturday that left one dead and 35 injured.
"We condemn in the strongest possible terms this egregious display of hatred, bigotry and violence on many sides, on many sides," Trump told the press at his golf course in Bedminster, New Jersey, on Saturday. "This hate and division must stop, and it must stop now."
On Sunday, the White House issued a statement clarifying that Trump was, in fact, talking about white supremacists, the KKK and neo-Nazis when he condemned bigotry and violence.
On Monday morning, at an appearance on Good Morning America, Attorney General Jeff Sessions said Trump "absolutely" needed to condemn white supremacist groups by name. Sessions also echoed national security adviser H.R. McMaster's assertion on Sunday that the car attack was terrorism.
Trump also used his Monday appearance to mourn the death of 32-year-old Heather Heyer, who lost her life after a car plowed through a crowd of counter-protesters at the "Unite the Right" rally.