Hundreds rally outside Trump Tower in New York to protest white supremacy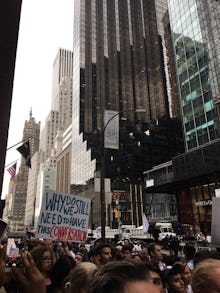 Three days after a clash of white supremacists and anti-racism protesters left one woman dead and dozens injured in Charlottesville, Virginia, President Donald Trump surfaced before a dazed nation to call out the violence that had transpired as racism and bigotry at long last.
"Racism is evil," Trump said. "And those who cause violence in its name are criminals and thugs — including the KKK, neo-Nazis and other hate groups."
But for the thousands of people who showed up to a smattering of rallies and solidarity marches staged outside Trump Tower in New York City on Monday evening, the president's words were a bucket of ice water on a violent blaze that has been left to burn out of control in America for far too long.
At one rally sponsored by Resisters and Refuse Fascism, two grassroots NYC activist organizations, protesters assembled to stand against "Trump, white supremacy, Nazi[s] and ideology of hatred," according to the event's Facebook page.
"This is the ugly face of Trump's America!" a description for the gathering read. "There is no apolitical reply to what happened in Charlottesville! You pick a side. Choosing to ignore is a side!"
Carl Dix, one of the initiators of Refuse Fascism, told Mic that Monday night's protest had been organized as a direct reaction to the events in Charlottesville, which he said were a "direct outgrowth of the Trump/Pence fascist regime."
"It is the outlines of a new civil war in this country," Dix said. "These fascists are serious. And we must wake up and confront them with resistance that is just as serious."
"I hate Donald Trump, he's a fascist and I come to every protest," Emily Kirkpatrick told Mic while standing in front of Trump Tower.
"It's what we always knew it was, that this is a white supremacist administration," she added. "They just made that very concrete, and the lack of denouncement, the lack of ownership for the terrorism that he's unleashed on America calls for protest."
Kirkpatrick explained that while every "terrible moment" with Trump's administration makes her believe change is coming, it still appears as though it's "business as usual" following the events at Charlottesville. She said that as a white woman, she believes it's her duty to attend protests.
"I think I have white privilege; I need to put my body on the line," Kirkpatrick said.
Another protester, Isaiah Dupree, told Mic that he was attending the protest in an attempt to fulfill his "civic duty."
"These issues directly affect my community, but I'm here in solidarity with all marginalized communities," he said.
As for the events that had unfolded in Charlottesville the weekend prior, Dupree said that he wasn't shocked by them.
"It's not like I didn't know it was there. It's always upsetting," he said.