'Madden 18' Ultimate Team News: Examining the biggest changes to the feature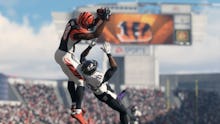 Ultimate Team has been one of the strongest aspects of Madden NFL Football for the past three years, but that doesn't mean there is no room for improvement. Per EA Sports, there are a number of changes coming to the feature for Madden 18 which is scheduled to release on August 25.
Here is a breakdown of the biggest changes.
Madden 18 player ratings reexamined
Ratings are a big deal in Madden in general, and even bigger in MUT. A higher-rated player justifies a gamer to spend in-game or real-life currency to upgrade a position on their squad.
In Madden 17, fans felt there wasn't enough of a difference between players rated one or two notches below the guys on their current depth chart.
This year, EA has implemented a new ratings system to make the differences more clear. Per a MUT developer blog on EASports.com
In the simplest terms, player OVR is calculated in a similar way that the salary cap value is. Each position has a formula catered specifically for it. From there, we identify what ratings mean the most at each position and assign a weight to them.
What this all really means is that it will take more individual rating increases in order to increase the player's OVR. We want even a one-point OVR increase to feel like a major difference in performance. Because of this, you will see lower individual ratings at the beginning of the year.
This is a welcomed addition and one we hope translates to other modes in the game.
Madden 18: Giving Packs More Value
If you've played MUT and opened packs, you know how frustrating it is to unwrap 10 virtual wrappers only to get two or fewer useful items.
Thankfully, EA is removing "coaches, uniforms, stadiums, and playbooks" from packs in MUT. Those items are nice, but most gamers don't want them to be a part of the packs they've gran
Madden 18: Adjusting Tiers
Madden 18 will feature more elite players. Elite status begins at an 80 overall rating in this year's game, and that means fans will see more players from their favorite teams on the elite level.
The lower tiers have also been restructured as follows:
Silvers are 60-69
Golds are 70-79
Elites are 80-99
Madden 18: Draft champions becomes MUT draft
In the last two versions of Madden, draft champions has been one of the best sub-features in the mode. This year, the feature will be called MUT draft.
This is a smart rebranding choice as it strengthens the overall depth of MUT.
It functions as it has in the past, only there's less presentation and it costs five tickets. It appears as though each fan will start off with a supply of tickets at the outset, but you will have to purchase more with in-game coins or by purchasing in-game points.
Madden 18: adding MUT squads
One of the biggest overall additions to the Ultimate Team lineup is MUT Squads. The three vs. three concept works well in virtual football and it seamlessly blends MUT collections into the action.
Three friends on each team collide in online team play using their Ultimate Team lineups with each player taking a distinct and important role.
This new mode will open a new esports vehicle for the Madden universe, and that's a great thing.
Take a look at some tips for success here.
More sports gaming news and updates
Love sports games? Check out more content from Mic, including news on NBA 2K18, Madden 18, WWE 2K18, MLB The Show 17 and the Nintendo Switch's sports games.