How 'The Mindy Project' changed the way "normal American woman size" women can dress on television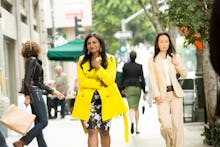 The Mindy Project hasn't even begun it's sixth and final season, and already it's secured it's own retrospective exhibition at Los Angeles' Paley Center. "The Mindy Project: Six Seasons of Style," running August 26 to October 1, is choosing to zero in on one of the series' most talked about aspects: its costumes, and the man at their seams: Salvador Perez.
Perez — whose credits include costume designing all three Pitch Perfect films as well as working as a costume manufacturing foreman on Titanic — says he realized fairly early on that his work on Mindy was permeating the conversation's around the show. "As a costume designer you do an interview once, maybe twice a year," Perez said in an interview. "For The Mindy Project, I was probably doing an interview a week to the point where the publicity department at Universal said 'You do more press for this show than any of the actors combined.'"
It wasn't just interviews. Fans too wanted access to Perez's often custom-made creations and were vocal to the point that in 2015, Perez teamed with up Gilt to release a Mindy-inspired apparel collection. It was immediately clear that both Mindy Kaling and her fictional television self Mindy Lahiri were burgeoning fashion icons.
"Back in design school I was mixing prints and I was always told, 'pull it back, it's too much; too much crystal, too much color,'" Perez recalls. "And meeting Mindy was the first time I worked with someone who was like, 'More!' She really loves the aesthetic I wanted to work with and relished in it and asked 'what more can we do?' As a costume designer, you have a vision and to be able to fully communicate that vision was about finding the right partner, which was Mindy Kaling."
It's a partnership that almost never happened. "When I first got the call they were like, 'Oh they want you to do this show called The Mindy Project about an OBGYN office,' and I was like, 'No thanks,' and turned it down immediately. And they kept calling, saying that Mindy Kaling had personally requested me. And I thought, 'That's sweet but I'm not interested in doing a doctor show."
Having worked with the series original co-star Anna Camp (who departed the show after the first season) on Pitch Perfect just months earlier convinced him to at least take a meeting. "At the first meeting with Mindy, I said it's great to meet you but I don't see how I have a lot of leeway with this show about an OBGYN office where it's all scrubs and lab coats. And Mindy said 'Oh no no no no no. I want this to be a very aspirational show. I want an aesthetic that's not out there. I want viewers to aspire to wear the clothes on the show.'" Perez was finally convinced.
Season one was about establishing the look: layers, cardigans over blouses, contrast tweed dresses and peter pan collars. "I have to be honest, the first year was challenging trying to find clothes that were appropriate for her in her size because I wanted fabulous and you go to places like Neiman's and they stop at a size 8."
Beginning in season two, the custom-made, high-end looks began to become a series mainstay, all in an effort to give Kaling — who in a 2011 NPR interview described her body as "normal American woman size" — more options. "It all started very organically with us making things like coats out of necessity and now it's just, 'Yes we can find a dress, but it's much more fun to custom make it for her.'"
It's an incredible feat, the devotion to crafting custom garments, and one that Perez did not lean on willfully, but instead out of necessity. "It wasn't that I wanted to build the costumes — because building takes time and money — but they just didn't exist. On Sex and the City, they were size 0's and 2's, so you could go to all the designers and borrow because their samples were all those sizes. Well Mindy's not a sample size so even though she wanted the designer clothes, they weren't available to her, so we just started making things."
Perez also looked to Europe and online to outfit Kaling's petite-yet-curvy size 10 frame (which, it's worth noting, is significantly smaller than the average American woman, who is a size 16).
"I did a commercial with her and I wanted a Dolce & Gabbana skirt and I needed three of them because we were going to get her wet," Perez recalled. "Dolce & Gabbana didn't have Mindy's size. I had to go Neiman Marcus who had to scour all over the country for me. So it's like, if the average American woman is a size 16 and I can't buy it in the states, what are these women wearing? And it really shows you that the fashion market doesn't understand that fashion is all sizes."
One person that does understand this, however, is Perez, who not only established the show's titular character's flair for style, but evolved it over six seasons. "In doing the retrospective and going through the archives of everything she's ever worn and pulling those first few outfits and then pulling the last few outfits, it's not just a change; it's a different show."
Just how many clothes are there? "She probably has 200 hand bags, 600 pairs of shoes, at least a 1000 dresses. There are ten feet of blouses, another ten feet of cardigans. There's easily 100 coats that we custom made for her. We cannot even contain the clothes," Perez says with an exasperated laugh. Thankfully, that's what the exhibition will be for.