Trump job approval hits new low in Gallup poll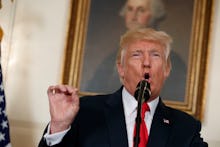 Trump's approval rating has hit a new low in the wake of a deadly white supremacist rally in Charlottesville, Virginia.
A Gallup poll released Monday shows just 34% of Americans approve of the job President Donald Trump is doing in the White House. It's the lowest rating he's seen from Gallup, which has tracked his approval rating since the inauguration.
The number of people who disapprove of Trump's performance hit a new high for the Gallup poll, at 61%.
The news comes after a violent weekend in Charlottesville. On Saturday, 32-year-old paralegal Heather Heyer was killed when a car rammed into a crowd of anti-racism protesters at a white supremacist rally. Dozens more were injured during the rally, and two members of the Virginia State Police, H. Jay Cullen and Berke M. M. Bates, were killed when their helicopter crashed.
Trump was widely criticized for his initial reaction to the violence in Charlottesville. Speaking in a press conference Saturday from his New Jersey golf club, the president failed to mention the extremist groups at the Unite the Right rally and condemned "violence" on "many sides."
The White House seemed to be trying to walk back the president's "many sides" comment on Sunday, when a spokesperson clarified that Trump had condemned "all forms of violence, bigotry and hatred and, of course, that includes white supremacists, KKK, neo-Nazi and all extremist groups."
While 34% may represent a record low for Trump's approval rating in the Gallup poll, it's not a new low threshold for his presidency. Earlier in August, a Quinnipiac Poll reported his job-approval rating at just 33%. The same poll found that 54% of Americans felt "embarrassed" that Trump is president.